NEW: OPTOMET – FIRST TIME RIGHT
Software for parameter optimization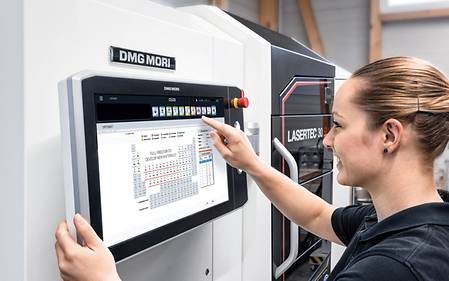 DMG MORI has developed the software OPTOMET in cooperation with INTECH for controlling the parameters of the powder bed process. It has self-adjusting and learning algorithms that calculate all required parameters of the SLM process in advance within minutes. This means layer thicknesses can be calculated freely, which in turn enables a faster and therefore also more productive build. OPTOMET has a material database that allows customers to use materials from all manufacturers without having to test them in advance. The open system also allows independent expansion of the database using the customer's own experimental data. OPTOMET is able to adjust parameters in such a way that material properties, such as hardness, porosity and elasticity, can be changed or optimized.​​​​​​​

CELOS for optimum workflow in pre- and post-processing
The integral software solution for CAM programming and machine control, CELOS, rounds off the process chains for the LASERTEC SLM series. The coordinated and standardized user interface enables parts to be programmed offline quickly and transferred to the machine – regardless of their complexity. Due to the efficient flow of information and intuitive operation, CELOS ensures an optimum workflow in the pre- and post-processing of additively manufactured parts. As a consequence, the open system of the LASERTEC SLM series enables individual adjustment of all machine settings and process parameters, right through to an extensive choice of material suppliers.

LASERTEC 12 SLM – four-times more accurate than the industry standard
Precision in additive manufacturing depends basically on three parameters, namely minimizing focus diameter, layer thicknesses and powder particle size. DMG MORI has taken exactly these parameters into consideration in the development of the new LASERTEC 12 SLM and has designed a high-precision machine for building the thinnest walls. The top properties and features already familiar from the LASERTEC 30 SLM2nd Generation – the rePLUG powder module, CELOS as an integral software solution, the open system and ergonomic design – also apply without exception to the LASERTEC 12 SLM, making this innovative machine the ideal addition to the DMG MORI portfolio of process chains in ADDITIVE MANUFACTURING.

DMG MORI developed the LASERTEC 12 SLM with a special focus on precision. A small focus diameter of 35µm over the entire build volume enables high-precision creation of the thinnest walls – four-times more accurate than the current industry standard. The thin layers can be built accurately and with exact repeatability thanks to integrated linear scales with a resolution of less than 1μm. An integrated sieving unit prevents larger particles or agglomerates from entering the build chamber immediately before introduction of the powder. In addition, the application of the powder in the build process is carried out safely in an inert gas atmosphere.

Despite its specialization and optimization in the high-precision building of filigree structures, DMG MORI has nevertheless managed to achieve a build volume of 125 ×125 ×200mm – the largest in this accuracy class. The ergonomic construction of the machine in Stealth design also reflects the principle that DMG MORI has been pursuing and optimizing continuously for many years, namely making the machine easy to use and efficient by ensuring better accessibility to all key elements. Furthermore, the LASERTEC 12 SLM is based on the same machine platform as the LASERTEC 30 SLM 2nd Generation, making this new development just as robust while retaining compatibility with both the conventional rePLUG and rePLUG reSEARCH. Rapid material changeover in less than two hours boosts the productivity of the LASERTEC 12 SLM enormously.

DMG MORI has designed the rePLUG reSEARCH especially for the development of materials. In contrast to the conventional rePLUG, this module has bottle-based powder feed suitable for significantly smaller material quantities, instead of the large powder container with a closed powder circuit. This ensures simple cleaning of the system, which brings great time savings and reduces the risk of crosscontamination to a minimum – especially important when trying a variety of materials. Any excess powder is collected in a bottle and can be sieved externally, ready for reuse.

OPTOMET
ADAPTATION OF THE POWDER PROPERTIES

Unlimited choice of material supplier – without any R&D effort
No compromise in quality reduced material costs thanks to the use of recycled powder
HIGHPRECISION SELECTIVE LASER MELTING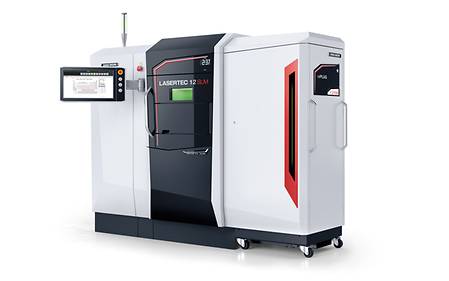 Four-times more accurate than the current industrial standard: 35µm focus diameter
Largest build area in its accuracy class: 125 ×125 ×200mm
rePLUG powder module for safe material changeover in less than two hours
90% TIME-SAVING AND NEW GEOMETRIES THANKS TO SELECTIVE LASER MELTING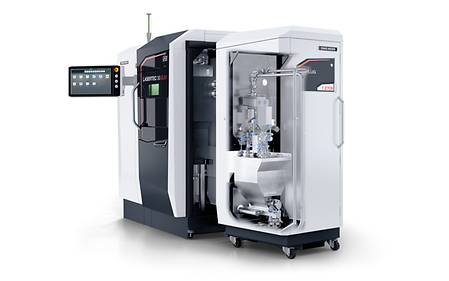 STB, founded in 1994 in Strausberg, Brandenburg, is an accomplished manufacturer of special seals for pumps, compactors, fans, compressors and turbines. Customers are to be found, for example, in the oil and gas industry. The product portfolio also includes anti-friction surfaces for floating ring seals. STB supplies customers in Europe as well as in the USA and Asia. The range of services includes the repair and refurbishment of technical equipment. STB has been using machine tools from DMG MORI since 2012, and with the LASERTEC 30 SLM 2nd Generation, the step into additive manufacturing was taken in the fall of 2018.
"We like to support our customers by providing individual solutions," says Robin Riedel, second generation Managing Director of STB, in describing the family company's philosophy. The path to the optimal solution starts in product development. "Here we benefit from our experience in the end user's business and from our expertise in design and production." High performance machine tools that reliably ensure consistent production quality are the be-all and end-all for STB. "DMG MORI is a byword for pioneering CNC technology and impresses us with its broad product spectrum. In particular, the range for additive manufacturing of metal components is a perfect addition for STB," says Robin Riedel, referring to the LASERTEC 30 SLM 2nd Generation machine installed in the previous fall.

An additively manufactured component replaces several conventionally produced parts
Selective Laser Melting enables STB to additively manufacture highly complex workpieces. "The technology gives us an advantage particularly in the case of new developments, as we do not first have to manufacture a mold for a casting." This only becomes worthwhile for larger quantities. "What is more, the time saving is 90%." In addition, SLM technology has manufacturing potential that goes beyond the possibilities of traditional machining: "Such designs would simply not be possible with this degree of compactness using conventional methods alone", explains Robin Riedel referring to a stainless steel housing, which requires finishing in only a few places following production in the powder bed. In this way, several conventionally produced parts can be replaced with one additively manufactured component. "The cost advantage for the customer in such cases is enormous."

rePLUG powder module for changing material quickly and safely
There were several reasons for purchasing the LASERTEC 30 SLM 2nd Generation, including the long and beneficial business relationship with the supplier. Robin Riedel: "It is an advantage for us to have one point of contact for all our machines." The powder bed machine is also impressive from a technological point of view. "Rapid powder changing with the help of the rePLUG exchangeable module is a productive, userfriendly and, above all, safe solution." No powder can escape thanks to the sealed powder circulation system. Until now, STB has been producing stainless steel workpieces on the LASERTEC 30 SLM 2nd Generation. Now, however, the first enquiries for components made from Inconel have started to appear.

Opening up new market potential with SLM technology
With sales offices in Bremen, Shanghai and the USA, STB has grown strongly in recent years. "New technologies such as Selective Laser Melting have assisted this growth," says Robin Riedel. He sees a great opportunity for further business development in the rapid manufacturing of new developments and the design of completely new geometries: "We are optimistic that we can open up new market potential in this way."
"On the LASERTEC 30 SLM ​​​​​​​we can now produce geometries that were previously not possible with this degree of compactness – and up to 90% faster."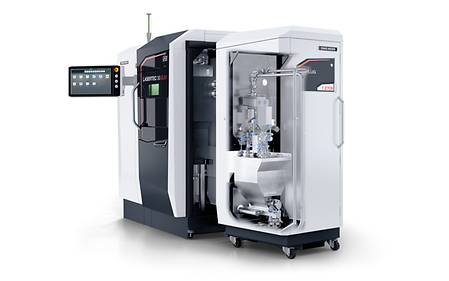 rePLUG – THE POWDER MODULE FOR FAST MATERIAL CHANGEOVER

Automated powder handling and powder storage under inert gas atmosphere
One material per rePLUG – expansion of the material range due to modular changeover system
Contamination-free changeover between different materials in <2 hours
Safe powder handling thanks to integrated peripherals and sealed material circulation
Increased efficiency through integral powder recycling
High process autonomy thanks to efficient duo-filter system (filter can be changed without interrupting the process) and large powder reservoir (no manual refilling necessary during the process)