03/14/2022
Unterschütz Sondermaschinenbau GmbH
Into a New Era with Automated Complete Machining
Unterschütz Sondermaschinen GmbH from Hettstedt in Saxony-Anhalt evolved from a three-man engineering firm in 1995 and has since established itself as a competent partner for the development and production of highly automated extrusion lines.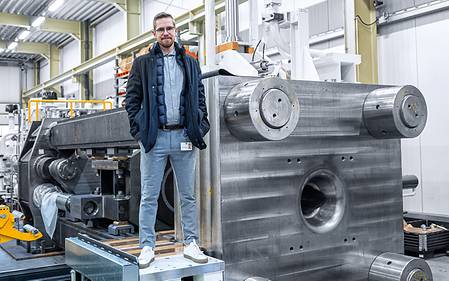 The systems mostly produce aluminum profiles used in countless industries, from general mechanical engineering through automotive and aerospace to interior design. Since 2019, metalcutting in Hettstedt has been updated with the addition of seven modern machining centers from DMG MORI. From the outset, there has been a focus on efficient automation solutions such as the Robo2Go and the PH 150 pallet handling system.
"Every one of our machines is unique that is tailored to the requirements of our customers", explains Philipp Unterschütz. The authorized signatory and project engineer, who is set to lead the company founded by his father Uwe Philipp Unterschütz and grandfather Wolfgang Jopp into the next generation, has ambitious goals. "If we are to remain productive and competitive, we must expand our production and steadily modernize." This is the only way that Unterschütz can reliably realize the extensive projects of customers from all over the world. It can take anything up to a year from the development phase to the delivery of an extrusion press, depending on the size and complexity of a project. If several orders are running at the same time, the company relies on efficient processes, as Philipp Unterschütz stresses: "That is why we focused on complete machining and automated production when purchasing new machine tools – a new era for us."
Robo2Go – Flexible use on different machines within 30 min.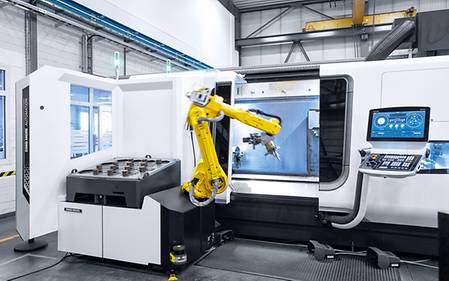 In 2019, DMG MORI installed the first of two CTX beta 1250 TC turning machines with Robo2Go automation. "The flexibility of the robot especially for small and medium size batches impressed us. If necessary we can move it to the second CTX beta 1250 TC with bar feeder within just half an hour." So both turn-mill centers are currently completely autonomous; while one machines bar material, the other machines chuck parts.
PH 150 – Flexible automation for one-offs and small batches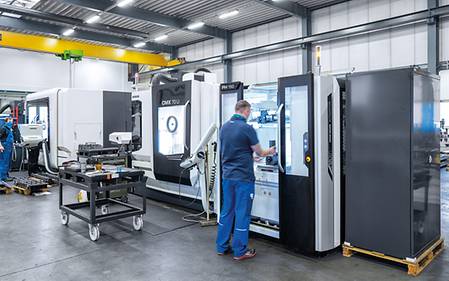 Unterschütz installed a 5-axis CMX 70 U to ensure the flexible but nevertheless automated milling of one-offs and small batches. Its B-axis has a swivel range of −5° to 110°. Having a diameter of 630 mm, the table is designed for heavy components weighing up to 200 kg. An FEM-optimized design and roller guideways ensure maximum rigidity and a stable machining process, while the linear scales provided as standard equipment guarantee precision. In addition, the CMX U machines are available with the option of an inlineMASTER spindle including 36-month warranty. The PH 150 pallet handling system enables needs-based prioritization of orders and setting up of the ten pallets while machining is in progress. The automation is designed for up to 24 pallets. "A zero-point clamping system ensures high repeatability", adds Philipp Unterschütz. "Another plus point is that the automation is controlled directly via the machine, without any additional control." A tool magazine with 60 stations also ensures minimum machine downtime.
Employee training for maximum productivity
To ensure immediate start of production, the employees responsible – who were involved in the selection of the machine from the very outset – were trained at the DMG MORI Academy. It was seen as a necessary step by Philipp Unterschütz: "Exploiting the potential of the efficient machines to the full requires the necessary knowhow, so initial training with aid of DMG MORI instructors was a logical step." The team reaps the benefit of this knowledge with every new purchase.
In-house production for higher productivity and secure supply chains
Higher productivity and better quality of the parts are decisive factors for Unterschütz when investing in modern production and automation systems. "This also makes us independent of suppliers", says Philipp Unterschütz. The impact of Corona showed him and his customers just how quickly the supply of parts can collapse. "This made many people rethink and return to production in their home country." In addition to all the economic benefits, Philipp Unterschütz also sees advantages for his employees: "They have far more time now for more varied and interesting tasks such as programming, quality assurance and process optimization." This makes it easy to ensure staff supports innovative new acquisitions.
Digitization with PRODUCTION PLANNING
The new era in which Unterschütz started the modernization of its machinery also means looking further ahead for Philipp Unterschütz: "Time does not stand still and nor do our machines any more thanks to automation. Our next step will be the progressive digitization of our production to enable even better planning of the increasing number of orders." And he has already found an attractive solution at DMG MORI to accomplish this. "The PRODUCTION PLANNING software from DMG MORI can further optimize our entire processes in future."
UNTERSCHÜTZ SONDERMASCHINENBAU FACTS
Founded as an engineering firm in Hettstedt (Germany / Saxony-Anhalt) in 1995
80 employees at its headquarters in Hettstedt, 30 employees in Sangerhausen
Development and production of highly automated extrusion press lines including run-out systems, furnace technology and packaging systems, in particular for aluminum profiles
Unterschütz Sondermaschinenbau GmbH
Parkstraße 18, 06333 Hettstedt, Deutschland
www.unterschuetz.com