07/22/2020
Peter Josef Klein Feinmechanik GmbH
Secure 24/7 production thanks to DMG MORI Full-Service*
Service costs, maintenance and original spare parts inclusive: The all-round carefree package from DMG MORI guarantees PJK-Feinmechanik reliable manufacturing.

Peter Josef Klein Feinmechanik GmbH, founded in Sankt Augustin in 1983, specializes in complex precision parts made of aluminum, steel and plastic. Customers from medical technology, the food industry and general engineering ensure the machine fleet works at full capacity, particularly in the recent past. This fleet has been consistently automated since 2011 to ensure manufacturing is competitive. A major contributing factor to reliable 24/7 production is ensured by DMG MORI Full-Service, which PJK Feinmechanik uses for its four DMU 60 eVo machines.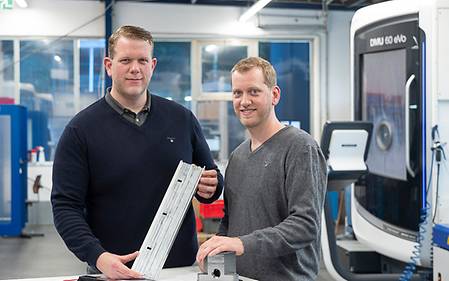 "Our daily challenge is to deliver high-quality components as quickly as possible," explains Peter Klein. He and his brother Julian Klein, who have been second-generation managers for five years now, continue to drive forward the successful development of PJK Feinmechanik. The automation of the machine fleet was a necessary step: "Manufacturing of medium batch sizes during unmanned night shifts and on weekends has increased our capacity enormously." This has also made it possible to counteract the shortage of skilled workers.
DMG MORI Full-Service – all service costs inclusive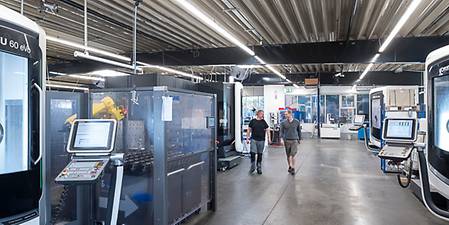 With up to 18 spindle hours per day net, the four DMU 60 eVo machines are practically in continuous use at PJK Feinmechanik. "It is therefore essential that they run reliably," says Julian Klein. Downtimes need to be avoided at all costs in light of the current order situation: "On the one hand, due to the length of the production downtime and, on the other, because of the potentially high repair costs." This was the reason behind the decision in favor of DMG MORI Full-Service when purchasing the machines. With this offer, the machine tool manufacturer has put together an all-round carefree package for customer from Germany, Austria, Switzerland that includes all service, travel and spare parts costs as well as annual maintenance. A machine breakage insurance from Allianz is also included.
Worry-free production with DMG MORI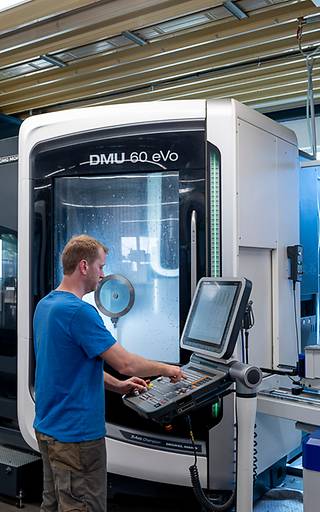 DMG MORI Full-Service is valid for new machines for a period of three years and can easily be included in the financing. "It is a great advantage for us to get all services from a single source," says Julian Klein. This also means: DMG MORI sends its own service technicians or certified partners to the customer and only uses original spare parts. PJK-Feinmechanik thinks long term: "We will continue to order every new purchase with full-service in the future."

"Thanks to DMG MORI Full-Service, we can produce without any worries because we know we won't have any unexpected repair costs," says Peter Klein. The full-service already pays for itself in the case of a defective belt filter system. "Larger damage like this is rare and real crashes don't occur because we simulate all programs in advance," adds Julian Klein. "It is much easier to plan our production if we can rely on a fast and reliable service." Here he praises the short reaction times: "If we need a service technician, they will come within one to two days."

Fit for the future – my DMG MORI and NETservice
Not every downtime requires a service technician. Peter Klein refers to the DMG MORI hotline: "In many cases, telephone support is sufficient to solve a problem." DMG MORI also offers uncomplicated remote help with its more recent service products such as NETservice, IoTconnector and SERVICEcamera. PJK Feinmechanik will equip its machines with these service solutions. "The remote service, the chat feature in multi-user conferences and the option of sharing images via camera will enable us to resolve downtimes even more quickly in future," says Julian Klein, looking to the future. The new online service portal my DMG MORI will also be used for future service processes. DMG MORI is responding to the increasing demands of its customers with the consistent further development of its services. PJK Feinmechanik is a good example of this, as Peter Klein confirms: "We rely on good service performance. For us, DMG MORI is a trustworthy partner to accompany us into a successful future."




* Available in Germany, Austria, Switzerland