07/22/2022
Permedica S.P.A.
More Quality of Life thanks to Automated, High-Speed Milling
Founded in 1986, Permedica S.p.A. from Merate in Italy is one of the leading manufacturers of orthopedic implants for hips, knees and shoulders. Today, the company is represented by 150 specialists in over 25 countries worldwide.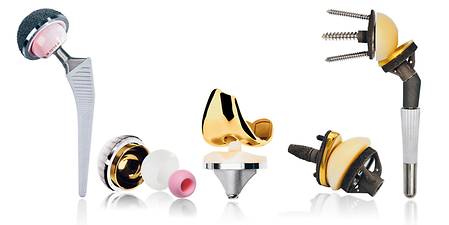 The high-quality products are the result of the company's many years of experience and consistent use of modern manufacturing technologies, including 19 machine tools from DMG MORI. The machines on the shop floor include an NHX 4000 horizontal machining center, Permedica manufactures hip, knee and shoulder implants. several NLX turning centers and an NTX 1000 for complex turn-mill applications. The latest investment is a fully-automated HSC 20 linear. DMG MORI realized autonomous production with a dual version of the PH 10 pallet changer, which operates as a workpiece handling system.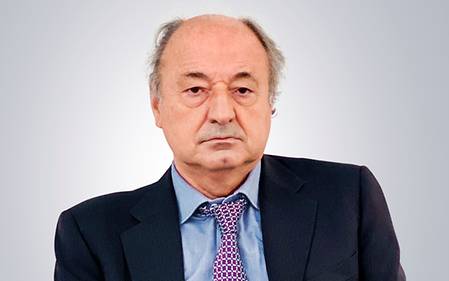 As a manufacturer of medical products, Permedica has achieved continuous growth for many years. However, the managing director Marco Perego does not take the company's strong economic situation for granted: "The competitive pressure in the industry is extremely high, so we constantly evaluate and optimize our processes." This is the only way to operate economically and survive longterm in the market. "It's about a perfect interplay of technical competence and innovative production." In other words, only well-trained specialists are able to develop optimal manufacturing processes and get the most out of the technologies used.
HSC 20 linear: Perfect surfaces thanks to high-speed milling
Permedica has found a partner in DMG MORI that can meet the high demands placed on production with an equally sophisticated portfolio of machines. This was true in previous years for the NHX 4000, with which Permedica carries out high-precision, low-vibration milling with optimum chip removal, and it was also true for the NTX 1000. Due to its versatility and precision, the turn-mill center is extremely popular in the field of medical engineering because it can be used for complete machining of complex joint components on six sides. Since 2020, Permedica has been manufacturing even more economically with automated production of plastic tibia components.
"The HSC 20 linear is perfect for machining these polyethylene tibial inserts, because high-speed milling achieves perfect surfaces", explains Marco Perego. The component serves as a sliding surface for the knee joint. With spindle speeds of up to 60,000 rpm and 2g acceleration, the HSC 20 linear achieves surface qualities of Ra <0.1µm. "In less than 20 minutes." The company decided on an automation solution for the first time so that the machine could be utilized to the full.
PH 10 as a workpiece handling system: Autonomous manufacturing of up to 126 workpieces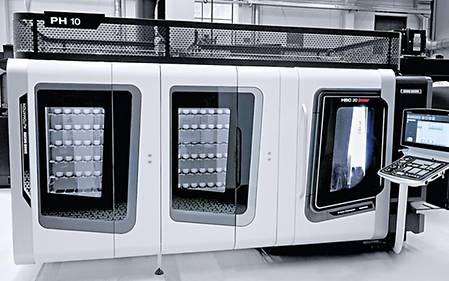 With the PH 10 pallet handling system, DMG MORI has an automation system in its range that is just as compact as the HSC 20 linear. There is normally space for 99 pallets in the system and the maximum workpiece weight is 10 kg. "As we wanted to run the machine unattended for a longer periods, DMG MORI designed the HSC 20 linear with a dual version of the PH 10" recalls Marco Perego. "In addition, DMG MORI implemented another special feature: the highlight is that DMG MORI converted the pallet handling system for workpiece handling and adapted it to our workpiece sizes. So the workpieces are transported directly into the machine without a pallet and stored after production. The result is that we have space for up to 126 polyethylene inserts in many different sizes and variants."
PH 10 - Individual Expansion Options
Interlinking of several machines with one or more pallet magazines side by side
Individual part handling via standard pallets or direct workpiece handling
Special options such as a deionisation unit for optimum chip removal, even for electrostatic materials
JOB MANAGER for user-friendly job management
6-sided complete machining 
To make the automated manufacturing process even more economical, DMG MORI installed a turn-over station as part of the automation system. "This enables 5-axis complete machining on all six sides", says Marco Perego. Process reliability was sustainably optimized in terms of chip management : "Deionization of the air in the work area and special hardware prevent the chips from sticking." A powerful suction system completes the chip management measures. With the automated HSC 20 linear, Permedica has a system with high uptime and minimum setup times that operates autonomously for days. And it helps meet delivery deadlines, claims Marco Perego. The managing director is more than satisfied: "This makes us an even more reliable partner for patients. They are pleased with their regained freedom of movement and quality of life."