07/24/2019
Össur
"Our components push the machines to their limits"
Össur uses high-performance DMG MORI CNC machines in an efficient complete-machining process to produce complex components for state-of-the-art prostheses.

As one of the world's largest and most innovative manufacturers of prostheses, Össur ensures patients regain maximum mobility following an amputation. From the prosthesis shaft and associated silicon liner, to the smart knee joint, to the carbon foot, the high-tech components contain so much know-how that their development process remains highly confidential. And as they relate to expensive premium products used for medical purposes, the highest quality standards apply right from manufacturing. Össur fulfils these in its machining work by using modern equipment made by DMG MORI. Twentyfive experienced workers create complex aluminium, titanium, stainless-steel and plastic workpieces at eight turning centres, including two CTX beta 1250 TC for turn & mill operations, and three DMU eVo 60 linear.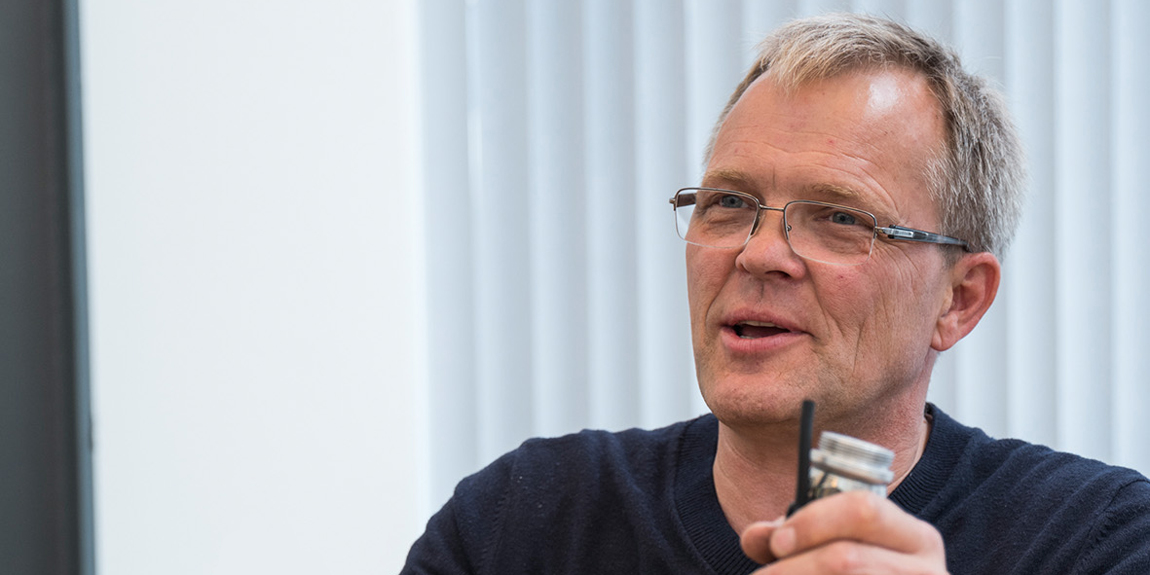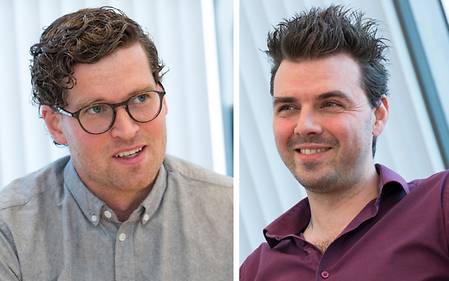 Össur's slogan – Life without Limitations – summarises what Larus Gunnsteinsson, Product Designer, expects of the products: "We want our prostheses to enable amputees to live as normal a life as possible." Which is why, he adds, they do not consider themselves to be in competition with other manufacturers. "We are instead in competition with the human body." The qualified shoemaker joined Össur after completing advanced studies in Sweden, and later founding his own orthopaedic shoes company. When Össur bought this company, together with its staff and expertise, it prompted a new phase of creation: "I knew practically everything about the human foot. Developing prosthetic footwear was a challenge I welcomed."

The development work performed by Larus Gunnsteinsson and his colleagues produced an entire range of prosthetic feet for varying degrees of mobility – from occasional use for older patients, to everyday use for active people, to elite sport. Icelandic javelin thrower Helgi Sveinsson, long jumper Markus Rehm and sprinter and long jumper Vanessa Low are just three of the prominent figures to consistently achieve personal bests with their blades (the name given to the carbon springs) during the Paralympics and world championships. But the main focus is on patients wanting to minimise hassles in their everyday lives. "We're constantly working on optimising prosthetic feet so that their mobility and rolling characteristics are as similar to real feet as possible", says Larus Gunnsteinsson, adding that today's products have already made great progress in this area.

Strong machinery for maximum performance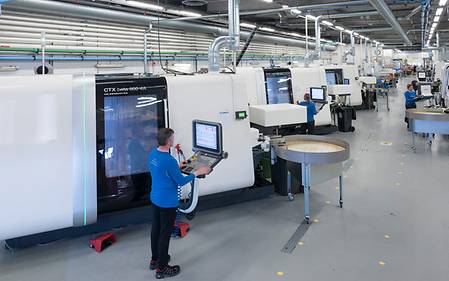 While the carbon plates in the prosthetic feet help with walking by absorbing and restoring energy, the silicon liners ensure the prosthesis connects firmly to the leg stump, and that the prosthesis is comfortable to wear, by reducing friction between the prosthesis shaft and the skin. The rest of the prosthesis is made from very lightweight but strong aluminium, steel, titanium and plastic components which help with stability and reliability, and thus ultimately guarantee user mobility. Machining, where Gunnar Eiríksson and Hrafn Davíðsson work as supervisors, is thus a top priority at Össur: "Producing complex workpieces requires high performance and strong machines", - a combination they found many years ago at DMG MORI.
The machinery fleet has continued to grow and is currently at twelve models. Apart from three DMU eVo 60 linear, production is primarily dominated by the machine-tool manufacturer's turning centres: three CTX beta 800 4A, two CTX 1250 TC and two TWIN models – predecessors to the current SPRINT automatic lathes. A NEF lathe and a DMU monoBLOCK® processing system were installed as part of the development work. "We notice the machines' strength every day because our components push them to their limits", says Gunnar Eiríksson, who also mentions how the low-vibration machining enables them to efficiently manufacture precision parts, with tolerances often down to the one hundredth.

Productivity through automation and complete machining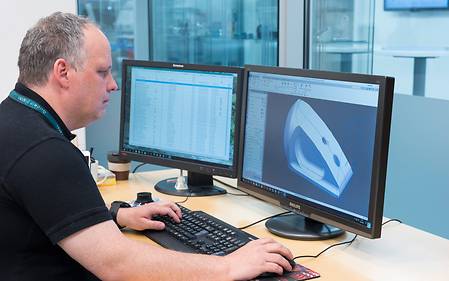 High demand is another reason why manufacturing needs to be efficient and, most importantly, productive. "We machine around 2,300 workpieces a day. Batch sizes are usually between 500 and 1,000 parts", Hrafn Davíðsson explains. Permanent further development also means new components are constantly being produced. "As soon as a new design has been developed, we're able to deliver a finished product within two weeks." According to Davíðsson, the production department works at full capacity, from design and CAM programming, to machining, to dimensioning and anodising the aluminium components. The team handles the production capacities with two day shifts and an unmanned nightshift – which explains the machines' consistent automation. Bar feeders replenish machining supplies, while robots stock the DMU eVo machines.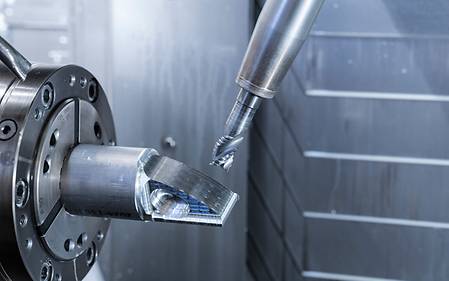 Complete machining is another major focus area for Össur. The CTX beta TC milling and turning centres are thus particularly important, as Gunnar Eiríksson describes: "We use these models to create complex geometry, which previously required multiple operations on two machines." The lack of manual retooling increases quality, and also results in impressive time-saving. "Optimising throughput times is one of our top priorities. Reducing machining by even just a few seconds makes a considerable difference in large volumes", Hrafn Davíðsson adds.
A global presence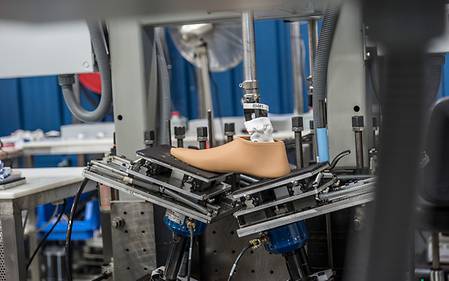 The technological potential and professional expertise in production extend even further. Larus Gunnsteinsson cites mould design as an example: "Our lifelike foot covers are made from EVA foam, which – just like in sports shoes – has cushioning properties." These feet would be manufactured using the injection-moulding process. "Injecting EVA foam is an art mastered by only a handful of companies around the world", which is why Össur co-operates with experts in Italy. "The Italians have a lot of experience with that material, and there are also logistical advantages."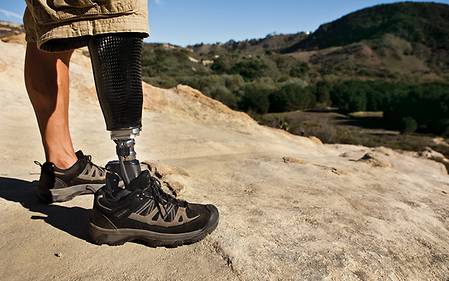 Iceland's remote location means Össur has established a good logistics network with large warehouses in the Netherlands, the USA and Shanghai. It will be increasing its production capacities for the vast American market (which makes up 65 percent of its volume) by setting up a production facility in Mexico. "The facility will be an exact copy of what we have here", Larus Gunnsteinsson explains. Gunnar Eiríksson is also already thinking ahead for the head office: "As our capacities continue to grow, we also need to keep upgrading and modernising the production plant. Given our positive experiences with the CTX beta TC models, we'll continue to follow the trend towards complete machining."