08/15/2022
MS Powertrain Technologie GmbH
Maximum Flexibility in Mass Production
MS Powertrain Technologie GmbH has been a reliable manufacturer of precision components for vehicles, engines, transmissions and machinery since 1965. Customers from Germany, Europe, Brazil and the USA, including those from the off-road and commercial vehicle industries, put their trust in the quality components. 
About 350 skilled staff currently ensure efficient production of small and large batches in a plant in Trossingen-Schura, which was opened in 2016. The new facility also has plenty of space for shop floor modernization, as demonstrated by the acquisition of a total of 24 DMU 65 H monoBLOCKs from DMG MORI, which machine rocker arms for engines fully automatically to high precision and cost-effectively, around the clock.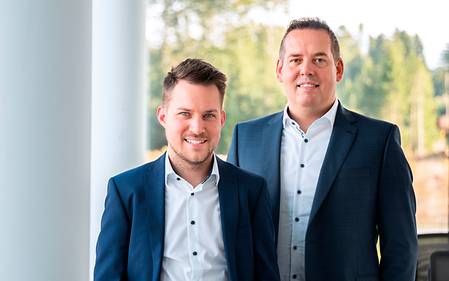 "The 5-axis horizontal machining centers are not only productive, but they are also extremely precise and have low vibration. In conjunction with the efficient chip evacuation, they are ideal for automated and reliable production, 24 / 7."
Holistic customer focus 
MS Powertrain regards itself as an all-round partner to its clients. "We support our customers with our know-how during the development phase if required," explains Bernhard Lehr, who manages the company together with Andreas Müller. He points out the high degree of vertical integration: "Since we combine almost every stage of production under one roof, we can react with considerable flexibility at any time." In addition to milling, the company's manufacturing skills include deep hole drilling, thermal deburring, grinding and hardening.
5-axis simultaneous machining for prototyping and small batch production 
The investment in DMG MORI machine tools took place in 2014. At that time, MS Powertrain shared a location in Spaichingen with its sister company MS Ultraschall Technologie GmbH. "Numerous machining centers and lathes from DMG MORI were already installed there, meaning that we knew about their reliability and performance," reminisces Bernhard Lehr. The company purchased the first of its own machines specifically for producing prototypes and small batches. These included a DMU 95 monoBLOCK and a DMU 80 eVo for 5-axis simultaneous machining.
DMG MORI: Wide range of products and future-oriented technology 
After good experience with the initial machines and with a view to winning a major new order from the commercial vehicle industry, MS Powertrain invested in machine tools from the technology leader again in 2020. "Due to the wide range of products and the focus on future topics such as digitization, DMG MORI can put together bespoke and, above all, innovative manufacturing solutions," says Andreas Müller.
24 DMU 65 H monoBLOCK: Efficient, high precision machining of rocker arms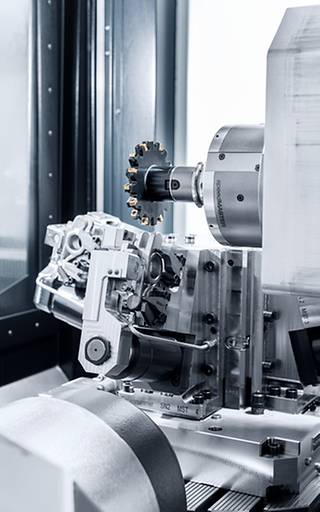 The large volume of the new order and the numerous component variants required versatile machining centers. MS Powertrain found what it was looking for in the DMU 65 H monoBLOCK. A total of 24 models will be installed by 2022. Thomas Greber, Head of Technology Development and Pascal Benz, Head of Production at the company, are more than satisfied: "The 5-axis horizontal machining centers operate with extreme precision and low vibration." The accuracy of the DMU 65 H monoBLOCK results from the high-stability monoBLOCK design, the clamping of the swiveling rotary table and the thermo-symmetrical design. "Travels of 650 × 950 × 700 mm are also ideal for a wide range of components," says Pascal Benz.
Reliable production thanks to the H-monoBLOCK concept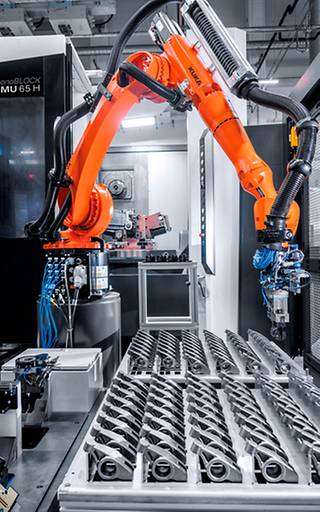 Efficient evacuation of chips during horizontal machining contributes to very reliable production – which is important for MS Powertrain as all 24 of the DMU 65 H monoBLOCK machines are automated. A robot picks up the raw material, aligns it and loads the machine. "There are individual workholding arrangements for the rocker arms, which DMG MORI supplied from a single source for the initial machines from its own fixture manufacturer," adds Thomas Greber. After the machine has been unloaded, the parts are automatically finished so that they arrive at the logistics department ready for delivery.   
Growth through flexible automation 
Whereas large orders such as this latest one indicate very positive business development, Bernhard Lehr still expects increasing diversification of the market and therefore increasing numbers of smaller batch sizes: "We therefore have to continue becoming increasingly flexible in order to meet the requirements of our customers and remain competitive." Automated production on the DMU 65 H monoBLOCKs has created a perfect platform for this. The strategy will continue to play a role at MS Powertrain in the future, as Andreas Müller adds: "Another plant is currently being built in Detroit with which we want to sustainably strengthen our position in the USA."