09/16/2022
MIKRON TOOL
Full Speed ahead for Medical Engineering – no Speed Limit with Mikron Tool
Joint projects implemented by DMG MORI and Mikron Tool in the medical engineering sector have clearly highlighted that, as well as the choice of machine, having the right tools is essential. This know-how plays an important role, particularly in the DMG MORI Medical Excellence Centers (in Seebach, Wernau, Chicago and Shanghai).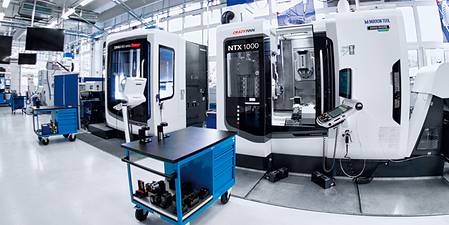 This is where integrated technology solutions are developed together with customers, effective automation processes for maximum quality and autonomy are defined, and digitized processes are ensured. Relevant peripheral and technology accessories from the DMG MORI Qualified Product Program (DMQP) are used in a targeted way. As a DMQP partner in the area of precision tools for micromachining, Mikron Tool makes repeated contributions to groundbreaking innovations.
DMG MORI Medical Excellence Center and Mikron Tool Technology Center 
The application-specific technology solutions developed by the DMG MORI Medical Excellence Center primarily involve the realization of the most efficient production processes for the customer. This is why the Medical Excellence Center has been collaborating with experts from the R&D department at the Mikron Tool Technology Center regarding tooling issues for more than six years. Production of the handle for biopsy forceps shows the importance of choosing the correct tool. The cycle time for machining this stainless steel component (in this case 1.4021 / X20Cr13) was reduced by more than 40 percent using Mikron Tool tools on a DMP 70 – while adhering to all drawing tolerances and providing excellent surface quality (Ra = 0.2 μm / Rz < 0.7 μm). Various milling cutters from the CrazyMill Cool series are responsible for saving time when producing this component. The special CrazyMill Cool Plunge & Slot high-performance cutter deserves special mention, as it combines drilling and milling and is characterized by having five times higher cutting data and service life that is five times longer. The "Crazy" result: a metal removal rate that is up to 14 times higher than that of the milling cutter previously used.
50 times more coolant – thanks to the unique cooling system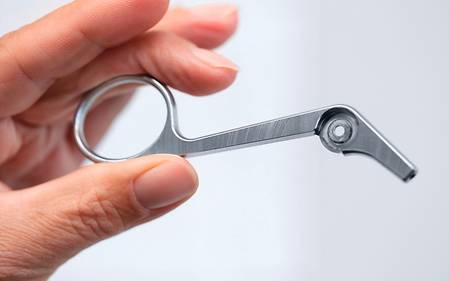 A CrazyDrill SST-Inox IK with integrated cooling is used for drilling the hole in the lower area of the handle. Its geometry is considerably different from the current stand- up to 12 × d (ø 0.2 mm – 2.0 mm). ards. The innovation lies in the digressive helical flute (patented), which is responsible for efficient chip removal. The unique cooling system delivers 50 times more coolant to the tool tips compared with normal commercial drills, which do not have integrated cooling channels. "In contrast to an external coolant jet, we achieve consistent cooling of the cutting edges with no temperature shock, which leads to longer service life," explains Dr. Alberto Gotti, Head of Research and Development at Mikron Tool.
Efficiency – 10 times faster machining and 15 times longer life with the same tool with increased process reliability 
Thanks to these characteristics, the speed of the tool is not limited: Drilling is more than ten times faster as standard – with a tool life that is 15 times longer, plus improved process reliability and precision. The result is a significant reduction in the cost of manufacturing. This is an enormous advantage for cutting tools used in the growing medical sector. Particularly in conjunction with high-precision and dynamic machines such as the DMP 70, these advantages can be exploited in production.
Holistic customer support from Mikron Tool and DMG MORI 
The dynamic machining centers from DMG MORI have all of the prerequisites for using tools from Mikron Tool to the full and getting the best out of them. The Mikron Tool Technology Center and the DMG MORI Medical Excellence Center do not only provide high-performance tools, but also integrated manufacturing strategies that include recommendations for the machine, tools, tool holders, workholding and CAD / CAM programming. This means that customers can operate with complete safely, even if they "don't stick to the speed limit."
CrazyMill Cool, carbide milling cutter with integrated cooling in the diameter range from 0.3 mm to 8 mm.
With the CrazyDrill SST-Inox, Mikron Tool is developing exclusive drills for stainless steel and other materials up to 12 × d (ø 0.2 mm – 2.0 mm).