05/20/2022
Metallbau Glawion GmbH
Customized Automation Solutions for raised Productivity
Founded in 2004, Metallbau Glawion GmbH from Eberswalde produces high-quality slewing rings for large-diameter antifriction bearings as well as components for the mechanical engineering, drive technology and crane construction sectors.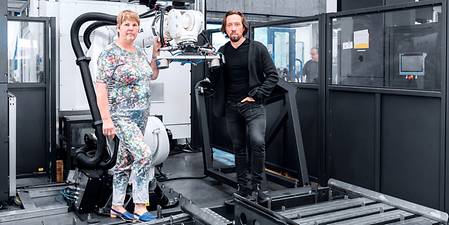 Customers of the 50-strong team include international corporations and suppliers in these industries as well as regional companies. To meet growing demand and minimize dependency on suppliers, Metallbau Glawion has continuously expanded its capacity and machining options by regularly investing in its production. There are currently ten machines from DMG MORI in operation on the shop floor, including a DMU 200 Gantry for machining large parts and two CMX 1100 Vs equipped with WH Flex workpiece handling systems. DMG MORI HEITEC has individually adapted the two automation solutions to meet the requirements of Metallbau Glawion.
Metallbau Glawion provides an integrated range of services for sheet metal forming, mechanical processing and welding. "This means we are in a position to fulfill virtually every order for the production of components and assemblies from a host of different materials", explains Ilona Glawion, founder and Managing Director of the company. Design services are also part of their offering. "We ensure a high level of product quality long-term by consistently training the next generation of skilled young staff, currently 17 in number."
As far as production is concerned, Metallbau Glawion has used lathes from DMG MORI from the very outset. "We have been investing regularly in milling technology since 2014", says Thomas Wittenburg, joint Managing Director of the company. Due to our good experience with the machine tool manufacturer, we again opted for DMG MORI. "Three DMC V vertical machining centers and a DMF traveling column machine have enabled a wide range of components up to 2,600 mm long to be manufactured." The latest investments, in 2019, were an even greater leap forward for Metallbau Glawion, made with the intention of producing all components in house.
DMU 200 Gantry with 4,000 mm travel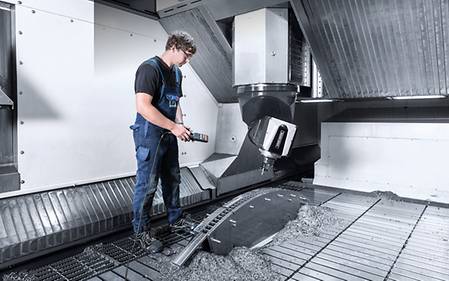 "Its spacious work area, compact design and high level of stability in 5-axis machining make the DMU 200 Gantry the perfect overall package for us", Thomas Wittenburg tells us. "There is sufficient space even for bulky welded assemblies in the version with a 4,000 mm table." The low gantry design allows optimum utilization of the work area.
Two CMX 1100 V machines with WH Flex: "DMG MORI twins" with optimal accessibility
As a second highlight, Metallbau Glawion installed two CMX 1100 Vs with WH Flex workpiece handling systems. Thomas Wittenburg likes to refer to the identically equipped manufacturing solutions as his "DMG MORI twins". The special thing about them: This was the first time that DMG MORI HEITEC had combined the WH Flex workpiece handling system with the vertical machining center from the FAMOT factory in Poland. "While other manufacturers offer workpiece loading from the front, which restricts access to the machine, DMG MORI was able to configure loading from the side", mentions Thomas Wittenburg as the decisive argument in favor of these automation solutions. This reduces downtime, during setting up of tools for example.
Individual automation including magnetic gripper and washing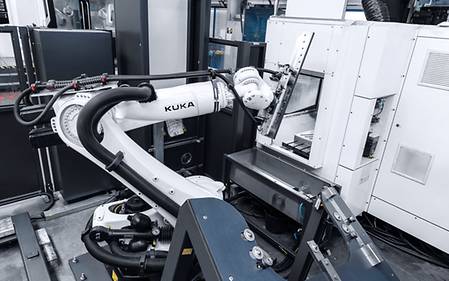 Another reason for investing was the concept of the workpiece handling system. Specifically it concerns the manufacture of clamping elements in different variations. "Both the magnetic gripper of the robot and the alignment station had to be adapted to the range of sizes", explains Thomas Wittenburg regarding the design. Clamping on the CMX 1100 V is also effected via a magnetic plate. "In addition we integrated a washing station, which removes the chips from the finished parts before they are placed on the pallet."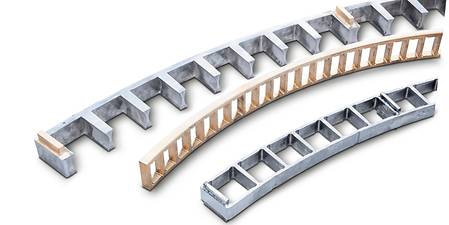 DMG MORI Messenger: Autonomous production at a glance
According to Thomas Wittenburg, the two CMX 1100 Vs soon proved their worth: "Thanks to the newly created night and weekend capacity, we can now take on far more orders."
DMG MORI Messenger makes unmanned operation possible. "We are informed by mail or text message in the event of a stoppage. We have an on-call service for such incidents that restarts the system." So future investments at Metallbau Glawion will focus on automated production that is digitally networked.
More flexibility thanks to automated manufacturing solutions
A new DMC 1450 V with WH Flex has already been ordered. "The concept will be similar, only for a wider range of components", says Thomas Wittenburg enthusiastically. "The work area is big enough for longer workpieces and an additional alignment station for cubic parts will enable automatic production of smaller components."
Automated 6-sided complete machining with the CLX 450 TC
Metallbau Glawion also puts its faith in innovative manufacturing solutions where turning is concerned. DMG MORI has been commissioned to install a CLX 450 TC – automated, of course. "With a bar loader and Robo2Go, we will then be able to completely machine turnmilled parts from all six sides in unmanned operation. This will also mean that we close the gap between turning and milling, which in the long term will make us more competitive", adds Ilona Glawion. She is convinced that automated solutions are the right way forward: "Automation creates extra capacity for the production of single parts on machines that are not automated and makes us more flexible where large series are concerned."