03/10/2020
GE Avio Aero
Manufacturing capacity doubled
With the help of DMG MORI machine tools, GE Avio Aero is able to meet the production requirements of the market while achieving a very high level of quality and precision.

GE Avio Aero, a subsidiary of GE Aviation, is involved in the development, manufacture and maintenance of components and systems for civil and military aviation. The company provides its customers with innovative solutions in order to react quickly to the continuous changes that take place in the industry: Additive manufacturing, rapid prototyping and technologies for manufacturing gearboxes, turbines and combustion chambers. The company headquarters is in Rivalta di Torino, Italy. In the factory there, GE Avio Aero has installed a production line consisting of four DMU 80 FD duoBlocks for manufacturing turbine disks and has more than doubled production capacity.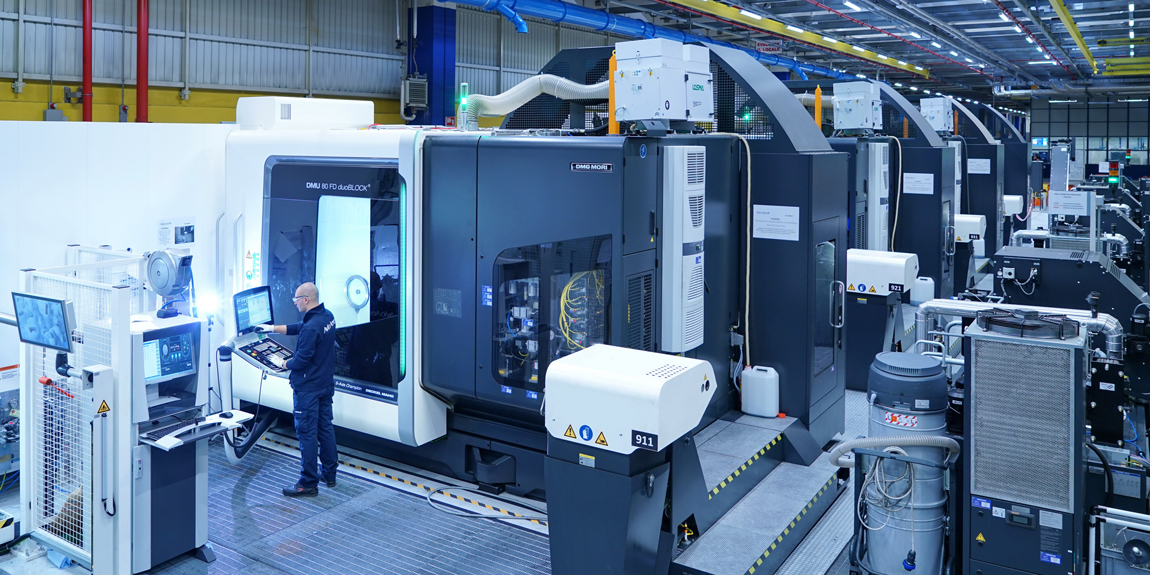 "The GE Avio Aero factory in Rivalta di Torino is a specialist in the design, manufacturing and installation of gearboxes and low-pressure turbines for civil and military aircraft engines and industrial and maritime applications", says Mauro Canola, manufacturing engineer at the Piemont site. One focus is the production of turbine disks for CFM international's LEAP engine, a joint venture of SAFRAN Aircraft Engines and General Electric. The outer diameters are between 400 and 1,000 mm. The materials are Inconel 718 and Renè 88. These special nickel alloys are highly heat resistant and corrosion resistant. Mauro Canola explains: "As they are extremely tough, they are difficult to machine and a high level of technological expertise is required to meet the high-quality standards."
Customer-specific automation with four DMU 80 FD duoBLOCKs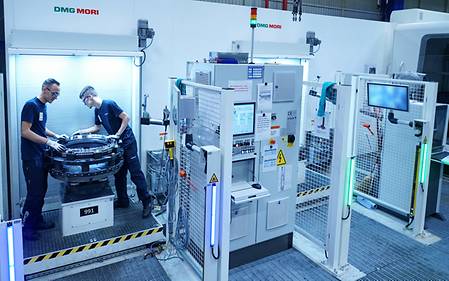 The turbine disk production capacity for SAFRAN Aircraft Engines was 1,500 disks per year. When the customer asked for an additional 1,700 turbine disks a year, the manufacturing capacity had to be increased. Since GE Avio Aero has worked successfully with milling-turning machines from DMG MORI for a considerable time, the logical step was to make further investments in this technology. Due to the high quantities, automated production was suggested. The result is a manufacturing line consisting of four DMU 80 FD duoBLOCK machines and a pallet storage system that can be extended to six machines in total. It must be emphasized that this is a customized solution. The pallets are transferred directly from the storage system to the working area.
Close cooperation with the DMG MORI Aerospace Excellence Center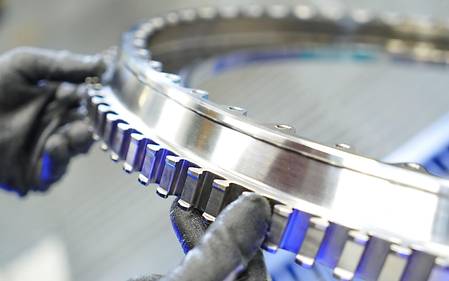 With many years of experience and a high degree of expertise, the DMG MORI Aerospace Excellence Center is in a position to implement individual and optimum manufacturing solutions for aeronautical engineering customers. In the case of GE Avio Aero, the experts there were involved in the project at an early stage in order to implement the special requirements. This included designing the technology with fixtures, machining strategies, system automation and tool selection. "We required a large number of tool stations for using sister tools," adds Mauro Canola. The innovative wheel magazine with 183 tool pockets fitted to the DMU 80 FD duoBLOCK makes tool replacement during machining possible.
CELOS for digitized planning, control and monitoring of production ​​​​​​​
DMG MORI also supported GE Avio Aero on the path to intelligent and networked production. "Thanks to CELOS we were able to plan, control and monitor production the entire production line," says Mauro Canola, describing the new developments in digitization. In conjunction with MT Connect, among other apps they were able to use the DMG MORI Messenger, Service Agent and NETservice software solutions. These communicate with GE Avio Aero's IT systems.
All participants benefited from the close cooperation between GE Avio Aero and the DMG MORI Aerospace Excellence Center, as Mauro Canola states: "Whilst we were informing DMG MORI about the standards and specifications for the two disk types, we got to know the potential of the new manufacturing cell at the same time." GE Avio Aero shared a great deal with DMG MORI and both partners benefited from the increase in expertise. "The collaboration depends on information, exchange of ideas and technological innovations."
GE AVIO AERO FACTS
Founded in 1908
Headquarters in Rivalta di Torino
4,600 employees
Manufacturing of components and systems for civil and military aviation