06/27/2022
Lindner-Recyclingtech GmbH
Pushing the Circular Economy: Turnkey Solutions for Recycling
Lindner-Recyclingtech GmbH, a specialist in shredding and integrated solutions for waste processing, has been making a significant contribution to the circular economy since 1948.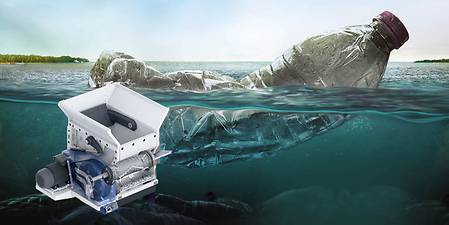 With more than 350 employees, Lindner develops and produces pioneering recycling solutions at 3 locations in Austria and thus sets standards for GREENTECH innovations. DMG MORI makes it possible for Lindner to manufacture the shredder components highly productively, as the latest installation shows: The process designed by DMG MORI Heitec includes two DMU 80 P duoBLOCK machines with WH Flex.
Circular economy for plastics 
Turnkey system solutions from Lindner for plastics recycling are very much in vogue. A functioning circular economy can only be realized with high-quality recycled material. The right raw material is required for this. In order to be able to produce this profitably at the lowest possible cost, Lindner offers a full range of modern shredders as well as washing and sorting components from a single source. Enabling recycling of materials is a major priority in politics, business and society, but the processes of material preparation need to be economical and automated.
Mono-Fix – flexible cutting system for shredding plastics 
Choosing the right cutting system depends on the type of plastic. Different knife systems have to be used, as the interaction of rotor, stator knives and speed has a significant influence on the quality of the shredded plastic. In addition, knife systems are subject to continuous wear.
Lindner developed the smart Mono-Fix system to meet this challenge. Mono-Fix allows knives and knife holders to be changed with just a single screw. This minimizes downtime during maintenance. Different pointed and flat knives, blanking plates and special counter knives that can be used on the same rotor body are available. This makes it possible not only to completely replace the cutting system when it is worn, but also to use different or mixed rotor configurations.
Two DMU 80 P duoBLOCK machines with WH Flex – fully automatic manufacturing of shredder components 
Because of the considerable increase in demand for recycled materials and the necessary variety of shredding systems, Lindner requires fully automated production of the Mono-Fix system. For this purpose, DMG MORI has supplied 2 × DMU 80 P duoBLOCK machines, which are loaded and unloaded by the mobile robot of the WH Flex. The raw material for the knife and knife holder is supplied in bulk via commercially available Euro pallets. The robot picks up a workpiece using camera recognition (bin picking). Various grippers and fixtures are available that can be changed automatically. The fully automated manufacturing system, including process design and programming, was supplied by DMG MORI Heitec. The system is planned in such a way that it can be extended with a third DMU 80 P duoBLOCK.
Digital engineering for virtual testing and optimization 
Another highlight is digital engineering. While the actual system is still under construction, the full functionality of the digital system can be used for training employees or for planning, programming and simulating forthcoming tasks. All processes can be tested and optimized virtually. On day 1, all that is required is to connect the power and press the start button.