11/29/2022
Körting Hannover GmbH
Overhaul – cost efficient and sustainable
In 1871, Ernst Körting invented the steam jet injector as a boiler feed pump and founded the company Gebrüder Körting in Hannover with his brother Berthold. Today Körting Hannover GmbH has subsidiaries in Brjzil, China, India, Malaysia and Poland and ranks as a leading manufacturer in the development and production of application-specific jet pumps as well as vacuum engineering products and environmental technology.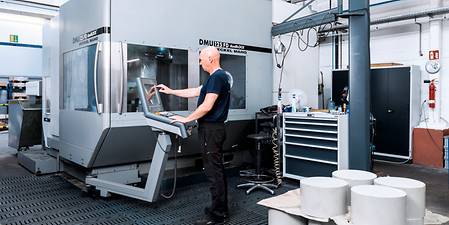 The principle of fluid dynamics applied then is still valid today. With around 300 employees, Körting is an important partner in the processing and chemical industries and the vacuum technology and environmental technology sectors. The company manufactures its demanding components on CNC machine tools from DMG MORI, among others. They include a DMU 125 FD duoBLOCK installed in 2006, which was made fit for at least another ten years thanks to a general overhaul carried out at the end of 2021 / beginning of 2022.
Development of integrated products through collaboration with partners 
"As an expert in engineering services, components and systems, we develop integral solutions in partnership with our customers", explains Dr. York Fusch, Chairman of the Board of Directors at Körting. This leads to consistent further development of the products and ever more innovative fields of application. "Our expertise ranges from development and construction to manufacturing and on to include measurement of our jet pumps." With this unique selling point, Körting can guarantee outstanding quality and process reliability.
Jet pumps for economic and energyefficient wastewater treatment 
Jet pumps require very little maintenance and are designed to operate for decades. "So although we have only a negligible spare parts business, more and more companies are replacing old jet pumps and vacuum systems with more energy-efficient ones in order to increase economic efficiency and improve their environmental footprint", explains Dr. York Fusch. The wastewater treatment business is gaining in importance. Körting develops and produces wastewater systems with ejectors whose design is similar to that of a jet pump. These, too, are dimensioned according to requirements, require virtually no maintenance and offer high oxygen efficiency, which is needed for purifying the water.
DMU 125 FD duoBLOCK: efficient milling-turning operations since 2006 
The ejectors are made of polypropylene and have been produced on a DMU 125 FD duoBLOCK from DMG MORI since 2006. "Milling and turning in one work area was even then the perfect manufacturing solution", recalls Jürgen Sack, plant manager at Körting. In addition, the work area offers sufficient space for long tools. "This means we can carry out many machining steps in a single clamping, which has reduced throughput time significantly." In 2021 Körting considered investing in a new machining center. "However, the DMU 125 FD duoBLOCK was technically suited to our requirements, so we decided to commission DMG MORI Used Machines to overhaul our existing model", says Jürgen Sack. This brought many benefits: "Firstly, we would have had to invest at least twice as much for a new model. Secondly, the overhaul did not require any changes on the shop floor and we were able to continue using our existing tools and equipment, such a fixtures and NC programs."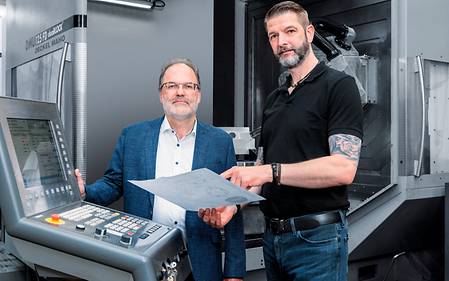 "Having the machine overhauled by DMG MORI Used Machines after 15 years brought decisive benefits for us. We saved 50 % of the costs of a new machine and thanks to the manufacturer's more moder, high quality parts, the accuracy of the machine is improved."
Jürgen Sack, (left) Plant Manager at Körting Hannover GmbH
Lars Günther, Head of Mechanical Production
Overhaul with original spare parts in DMG MORI quality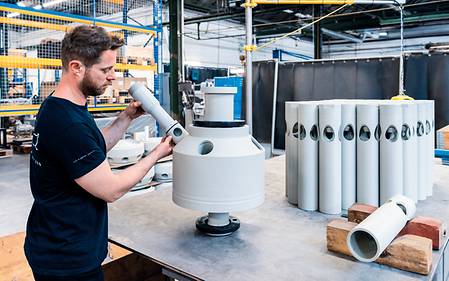 When carrying out a machine overhaul, DMG MORI Used Machines first records the actual condition of a machine, dismantles it and transports it to Geretsried. After disassembly and cleaning, all components are overhauled and reassembled. The paintwork is also renewed. Then comes a test run, acceptance and pre-delivery inspection before the machine is reinstalled at the customer's premises. "Having the machine overhauled by DMG MORI was important for us, because the manufacturer knows the machine best and uses only original, high quality parts", Jürgen Sack goes on to tell us. An overhaul after 15 years also means that DMG MORI uses far more modern components. "This again further boosts the accuracy of the machine."
Three-month machine overhaul with timely completion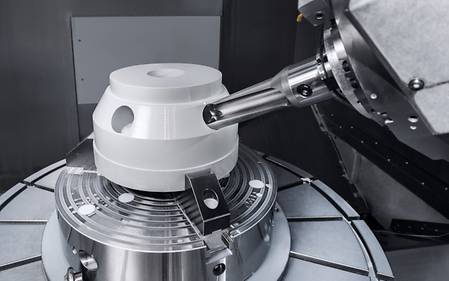 Punctual completion was also important for Körting. "We were able to plan the threemonth overhaul and produce a large number of ejectors in advance, yet the DMU 125 FD duoBLOCK is essential for our production", explains Dr. York Fusch regarding the urgency. The mill-turn center has a multitude of applications – it can also be used for the demanding machining of components made of chromenickel alloys. "DMG MORI documented everything with interim reports and put the machine back into operation punctually as agreed", say Dr. York Fusch and Jürgen Sack, obviously more than satisfied and impressed.
Reliability with 10-year availability of spare parts and service 
The DMU 125 FD duoBLOCK was predestined for a machine overall, concludes Jürgen Sack: "Large, complex, new machines always involve large investments, which are only feasible if you can optimize your processes sustainably with a leap in technology." As this had already been achieved in 2006, the benefits of the overhaul far outweighed the optio of buying new. Dr. York Fusch goes on to add: "What is more, our engineers were able to carrying on working seamlessly on their familiar machines – plus we benefit from a six-month warranty and 10-year availability of spare parts and service."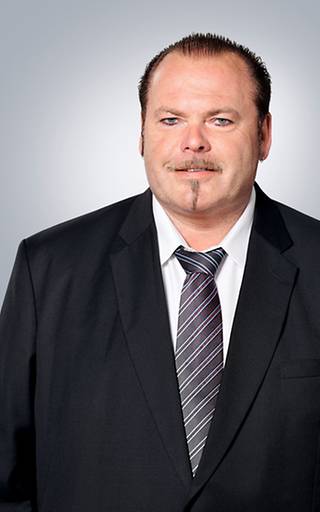 "We take care of your machine, from the last machining operation before it is dismantled through to the first machining operation after the overhaul and recommissioning."
Lothar Sommer
Managing Director of DMG MORI Used Machines GmbH
lothar.sommer@dmgmori.com