03/01/2023
Husky Injection Molding System S. A.
Up to 5,000 kg PH‑AGV – Autonomous Pallet Handling
Founded in 1953 in Bolton, Canada, Husky Technologies is a leading provider of injection molding solutions for the packaging industry – both food and medical. The company employs 4,000 people worldwide, around 1,000 of whom work at the Luxembourg plant in Dudelange. Here, molds are primarily developed and built for the production of preforms.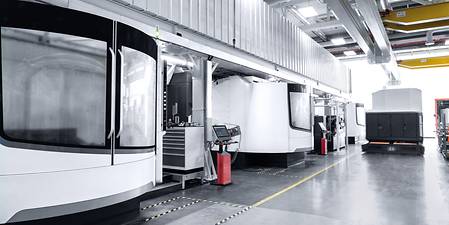 These are blanks from which PET containers are formed. Husky Technologies optimized the milling of the base plates of these molds in 2020 with three DMC 160 U from DMG MORI and a fully automated tool storage system. This year, the process was further automated using a material storage system for 422 components and a PH‑AGV 5000, a self-propelled transport system that autonomously loads the machines.