05/23/2022
Herrmann CNC-Drehtechnik GmbH 
Automation for better Space Utilization
Founded in 1986, Herrmann CNC-Drehtechnik GmbH, with its instinct for maximum quality, is a reliable partner for demanding customers. It has been aerospace certified since 2009.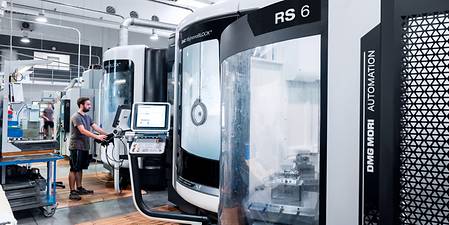 With almost 100 employees the company, located in Hohenlinden, produces turned, milled and gear-cut parts as well as complete assemblies for the aerospace, pharmaceutical, medical and rail sectors.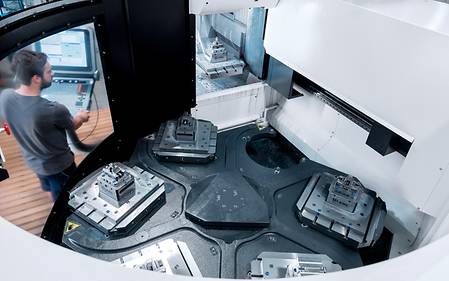 The former tool grinding shop was expanded to include a lathe from DMG MORI as far back as 1988 and has been continuously extended ever since. Its production facility today includes 50 machines. Since 2009, Herrmann CNC-Drehtechnik has used machining centers from the machine tool manufacturer, including 5-axis models from the NMV and monoBLOCK series. Three of these machining centers operate largely autonomously thanks to the pallet handling systems.
Aerospace certified since 2009 
"Components from our factory are found in every Airbus and some Boeings", says Gerhard Herrmann, company founder and Managing Director of Herrmann CNC-Drehtechnik, speaking of the importance of the aerospace industry for his company. They account for 80 percent of sales. "The diverse components range from workpieces for the sanitary facilities on an aircraft to cargo loading systems and on to include safety-related components for the landing gear." The aerospace certification also impresses customers from other industries. Herrmann CNC-Drehtechnik often supports customers in an advisory capacity in the design and development phase of a new product in order to implement a more cost-effective production method for the benefit of everyone involved.
Innovative manufacturing technology from DMG MORI since its foundation 
This manufacturing competence is the result of many years of experience and an innovative mindset. The team is made up of specialists who have been with the company from the start, as well as young new talent trained by Herrmann CNC-Drehtechnik itself. "After all, we need well-trained young staff if we are to get the maximum out of our production facility", claims Gerhard Herrmann, who has always relied on modern and efficient machine tools. "In particular, the high level of precision of the DMG MORI lathes was unique at that time." That is why he has always remained loyal to the machine tool manufacturer in subsequent years – also where milling is concerned.
NMV 3000 DCG and AWC 114: 114 pallets in an area < 3.8 m2 
"As we had worked with the NMV 5000 so successfully since 2009, the machine series was the obvious candidate in 2015 when we planned to invest in automation", recalls Stefan Schubel, Production Manager at Herrmann CNC-Drehtechnik. The NMV 3000 DCG with an AWC 114 pallet handling system fitted perfectly on the shop floor. "Due to the tower storage design, DMG MORI managed to accommodate 114 pallets in an extremely small footprint." In other words: With a footprint of around 12 m2 in total, of which the automation takes up just 3.8 m2, the manufacturing solution is ideal for capacity expansion wherever production space is limited. The pallet handling system is designed for a workpiece weight of 80 kg and a maximum size of ø 350 mm. The machine has a tool magazine with 180 stations for continuous operation. Stefan Schubel says in this respect: "This allows the machining of a wide range of components in medium batch sizes of up to 300."
DMC 65 monoBLOCK and RPS 6: Flexible production of small batch sizes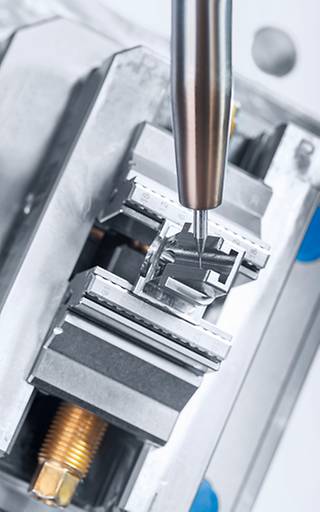 Herrmann CNC-Drehtechnik has had two more automation solutions installed in the form of DMC 65 monoBLOCK machines with RPS 6. "We were already well acquainted with the machine", says Stefan Schubel referring to the DMU 65 monoBLOCK that has been in operation for some time. The rotary pallet storage system for six pallets is larger than the one for three pallets, but: "Higher utilization was an important factor for us." It means the team can fulfill more orders, as the two machining centers are in operation more or less around the clock. According to Stefan Schubel, choosing the DMC 65 monoBLOCK for the latest automated system instead of a second NMV 3000 was a deliberate decision: "The possibility of machining larger workpieces was decisive, in addition to the HEIDENHAIN control." The strengths of the two DMC 65 monoBLOCK machines with RPS 6 are especially useful in the series production of small, high-precision parts. Here also the range of components is enormous: Travels of 735 × 650 × 560 mm and a table load of 600 kg speak for themselves. However, the manufacturing solution also produces small workpieces highly efficiently. "We benefit from this flexibility in our day-to-day business", explains Stefan Schubel. The machine's precision is a further advantage: "We machine Inconel, high-strength steels and titanium to within microns, which places high demands on the manufacturing equipment."
Into the future with automation and digitization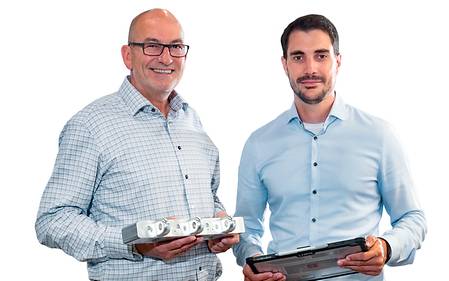 With regard to increasing productivity, automated production has in the view of Herrmann CNC-Drehtechnik proven its worth. "We will continue along this path – certainly with another production facility in the long term", says Gerhard Herrmann with an eye to the future. The first steps in the direction of digitization have already been taken, as Stefan Schubel goes on to tell us: "We already use my DMG MORI to support our service team and will take a closer look at additional digital solutions with a view to optimizing our other processes as well."
Herrmann CNC-Drehtechnik GmbH
Josef-Neumeier-Straße 1a
85664 Hohenlinden, Deutschland
www.herrmann-cnc.de