06/22/2022
Havlat Präzisionstechnik GmbH
μ- Accuracy and Automated Complete Machining is A Factor of Success
HAVLAT Präzisionstechnik GmbH has developed over its 40 years in business from a one-man garage workshop to become a competent partner in precision machining. Its 250 experienced specialists make the family-run business in Zittau one of the biggest employers in the region.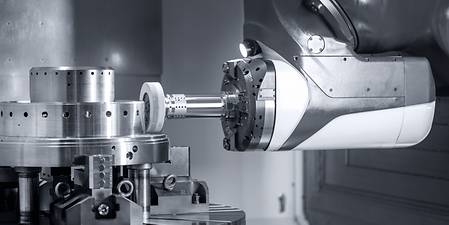 With around 80 machine tools in a production area of 14,000 m², HAVLAT guarantees trouble-free production of precision components and assemblies for machine tool construction and energy technology. For many years the company has trusted in productive and efficient CNC technology from DMG MORI, a fact further underscored by the three latest purchases: a DMC 125 FD duoBLOCK with grinding capability and 12-station rotary pallet storage system, a DMC 210 U μPrecision with pallet pool and a TAIYO KOKI – vertical grinding machine with pallet changer and loading station. In order to ensure maximum machine availability, HAVLAT has concluded a DMG MORI Full Service agreement for all three models. Service is further optimized by the online portal my DMG MORI.
μ-accurate precision components 
Key industries like aerospace and medical use extremely accurate machine tools. This level of accuracy is based on core components such as the machine bed, slideways and table. "We specialize in the production of such demanding μ-accurate precision components", explains Lars Friedrich, Managing Director of HAVLAT. The process begins early on with consultation and planning: "We support in particular customers who have no production of their own with our expertize with regard to feasibility and process optimization." HAVLAT sees itself as a holistic partner, so it also offers assembly and ensures on-time delivery.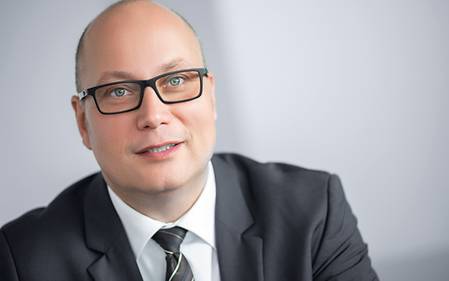 "We have found a partner in DMG MORI that supports us in all areas – whether μ-precise milling, turning or grinding. Also in the fields of automation and service. Everything from a single source.
Lars Friedrich, HAVLAT Präzisionstechnik GmbH
Complete machining with CNC technology from DMG MORI in 3-shift operation
An ultra modern shop floor that HAVLAT utilizes over three shifts is the backbone of production, where 25 models from DMG MORI, among others, are in operation. The machines range from universal models such as the DMU 50 through to large DMC Portal machining centers and CTX gamma TC turn-mill centers. "It has long been our goal to produce components in a s few clampings as possible", says Production Manager Norbert Heinz of the production strategy. That is why 5-axis milling and 6-sided complete machining are integral parts of production. "Fewer reclamping operations mean shorter idle times and therefore higher productivity", sums up Lars Friedrich. The same is true for automation solutions with the aid of robots and pallet changers. "We have found a partner in DMG MORI that supports us in all areas – whether μ-precise milling, turning or grinding and also in the field of automation and service."
TAIYO KOKI CVG 6: pallet changer with loading station and tool magazine for up to 6 grinding tools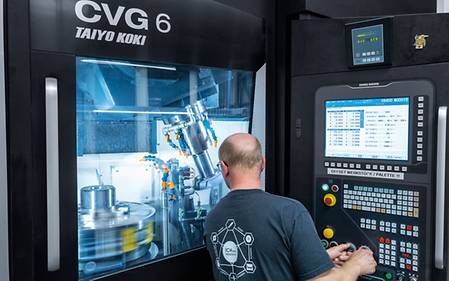 HAVLAT offers its comprehensive service by using a wide range of machines from DMG MORI. Even grinding – which has been part of the company's offering for 20 years – is carried out in part on models from the machine tool manufacturer. The Vertical Mate 85 from TAIYO KOKI has been in operation since 2016. "The quality and repeatability of the TAIYO KOKI machine impressed us so much that we hit the jackpot again with our latest expansion of capacity", recalls Lars Friedrich. DMG MORI installed a CGV-6 at the beginning of 2019. The vertical grinding machine from TAIYO KOKI grinds inside diameters of between ø 50 and ø 600 mm and outside diameters up to ø 600 mm. Another advantage compared to other grinding machines is the pallet changer for up to three pallets and the tool magazine: "It means we can use several grinding tools with a single spindle."
DMC 125 FD duoBLOCK – milling, turning and grinding to 0.4 μm Ra 
Grinding also found its way into the milling area when HAVLAT put a DMC 125 FD duoBLOCK into operation, also in 2019. The machining center is equipped with grinding capability. "So we have the possibility to turn, mill and finally grind rotary tables or docking flanges, for example", explains Norbet Heinz. The grinding cycle enables internal, external and face grinding as well as dressing of the grinding wheel. "We achieve surface qualities down to 0.4 μm Ra and circularity of 5 μm." Thanks to this complete machining, the company can produce complex precision components competitively. The twelve-station rotary pallet storage unit also plays its part, adds Lars Friedrich: "It allows us to set up during machining and so utilize the full capacity of this machine with minimum idle time in three-shift operation."
DMC 210 U μPrecision – 13 μm volumetric accuracy
HALVAT recently installed its third machining center: a DMC 210 U μPrecision that is designed specifically for precision. Its volumetric accuracy is 13 μm and its positioning accuracy is 4 μm in all axes. "The purchase resulted from the demanding requirements of customers", explains Lars Friedrich the investment. "As our components are essential for the precision of machine tools, we want to get the maximum quality from our machines." The pallet pool with five stations was, of course, decisive for the purchase of this machine as well.
DMG MORI Full Service: All-round carefree package for new machines 
With the purchase of the two 5-axis machining centers, HAVLAT also made use of DMG MORI Full Service. This is valid for the first three years after the purchase of a new machine. A fixed monthly fee covers all service and spare parts, so there are no unexpected repair costs. It goes without saying that the DMG MORI service technicians only ever use original spare parts. All travel and incidental expenses are included in the fixed price. For Sandor Pinter, Production Manager Technology, this security is worth its weight in gold in day-to-day business: "If we wish to remain competitive, we must utilize production to the full around the clock. DMG MORI's Full Service prevents unscheduled and lengthy machine downtime." Its scope includes the manufacturer's annual service with replacement of all wear parts plus machine breakage insurance.
my DMG MORI: Absolute transparency in service 
The fact that innovation also optimizes service is illustrated by the introduction of my DMG MORI. The online portal enables customers to send damage reports simply at the touch of a button. "Screen shots and videos can also be attached, so the service technicians can get a better picture of a respective case", says Norbert Heinz describing the procedure. In this way the message reaches the right service technician quickly. "We get an online confirmation and can track the status of the service process transparently at all times." The detailed description also prevents unnecessary travel, because the DMG MORI Service can order the necessary spare parts in advance before the technician sets off.
Investment in machine tools and in personnel ensure the future of HAVLAT. "We satisfy our need for new skilled staff with 30 trainees", says Lars Friedrich with reference to the promotion of new talent. The company has already scored top marks as a training company in a Germany-wide evaluation. This commitment also pays off for the company as a whole. Just last year HALVAT was awarded an entrepreneur prize. Lars Friedrich is convinced: "We have created an excellent basis for future generations to continue our successful corporate mission."