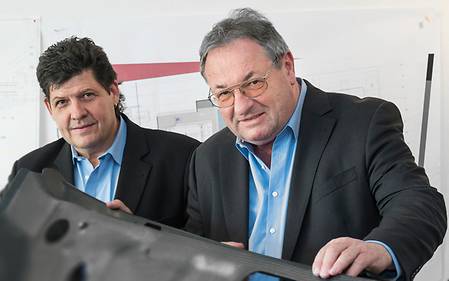 In its more than 90-year company history the Fritzmeier Group has established itself as a reliable and competent original equipment manufacturer in the agricultural machinery sector and the commercial vehicle and automotive branch. Founded in 1997 as a subsidiary, Fritzmeier Technologie GmbH acts within the group as a powerhouse for ideas for individual, complete technical solutions. Over 80 employees develop, design and produce tools, prototypes, cubing models and test gauges for the automotive industry, for both Fritzmeier itself as well as for external customers. Fritzmeier Technologie has been working with models from DMG MORI for its wide range of machining operations for many years now, in particular with the smaller machining centres. There is to be an addition to the machine park in 2018 in the form of a DMU 200 Gantry, which the machine tool manufacturer first presented at the EMO 2017. The Managing Directors Peter Berger and Robert Huber actually ordered the new development while it was still in the drawing board phase.
"Innovative production technologies have always ensured our competitiveness", explains Robert Huber, with his eye on a modern welding robot and a 5-axis laser cutting system. "We have been using linear models for machining since 2001, in order to speed up the finishing process. Robert Huber worked in sales for 15 years, where he was mainly responsible for demanding projects in the automotive sector. Since January he has been Managing Director of Fritzmeier Technologie, taking over from Peter Berger, who had held this position for many years. After more than 40 years in the company Peter Berger, too, is fully aware of the importance of modern manufacturing technologies: "Precision takes top priority where our products are concerned – whether in tool making or the machining of cubing models and test gauges."
The service offering of Fritzmeier Technologie starts early on in the development phase. "Many customers involve us early on, because we can support the designers with our manufacturing competence", is how Robert Huber describes the cooperation with customers. This means machining processes can be designed more efficiently. Production and 100-percent testing of all parts round off the complete process. "Our customers want perfect components and integrated tool solutions", explains Peter Berger.