02/18/2021
Christ Packing Systems GmbH & Co. KG 
New development potential through precise 5-axis machining 
With the introduction of a CAD/CAM system and two DMU 65 monoBLOCK including PH 150 pallet handling from DMG MORI, Christ Packing Systems has sustainably optimized its manufacturing process. 

Worldwide, more than 3,000 machines from Christ Packing Systems package items in the pharmaceutical, cosmetics and food industries, among others. The subsidiary of Otto Christ AG was founded in 1997 by taking over the Pietruska company in Memmingen, which had existed since 1950. The move to Ottobeuren followed in 2007, where today 150 employees design and build packaging machines individually according to customer requirements. Christ Packing Systems modernized the crucial chipping in this value chain at the end of 2017 with an automated DMU 65 monoBLOCK from DMG MORI. A second followed in 2018. PH 150 handling with ten pallets and the high precision of the 5-axis machining center have since given employees completely new options.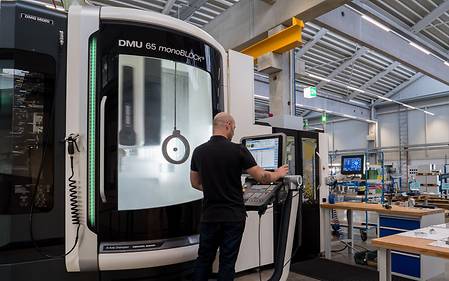 Up to 30 different components a day 

The challenges in the packaging industry are particularly great when high hygiene standards on the one hand and enormous quantities on the other are decisive factors. Both apply to the pharmaceutical industry, where Christ Packing Systems installs a large proportion of its machines. Martin Lutze, Technical Manager, explains, "The demand for quality is also reflected in production." At the same time, he says, orders have to be processed quickly in order to remain competitive. Christ Packing Systems benefits from the many years of experience of its employees, who are flexible and solution-oriented in their approach to the ever-changing projects. "Since every packaging machine is a new development, we also have constantly changing workpieces in machining – up to 30 per day with batch sizes of just a few components," says the trained cutting machine operator, describing his varied task. 
Process optimization thanks to central CAD/CAM programming 
To make this varied work more efficient, Christ Packing Systems introduced a CAD/CAM system in 2016. "The move from workshop-oriented to centralized programming has significantly optimized processes because work preparation and order planning are clearer," Martin Lutze recalls of the changeover, which also resulted in the purchase of the DMU 65 monoBLOCK from DMG MORI: "This enables us to program more complex parts and manufacture them with 5 axes." 
Automated 5-axis machining enables up to 90 % shorter processing time
By moving into 5-axis machining, Christ Packing Systems has drastically reduced lead times because many components are now completely manufactured in one setup. "Today, we manufacture many components in half an hour. In the past, it sometimes took us half a day." This time advantage was also an argument in favor of automated production at the time of acquisition, he said. "While the machine processes the prepared orders completely autonomously, we can devote ourselves to more complex workpieces in programming and lose less time there." Two DMU 65 monoBLOCK are used here, each automated with a PH 150. The PH 150 provides space for ten 320 x 320 mm pallets with 150 kg (250 kg optional) loading weight. Optionally, for example, up to four 500 x 500 mm or 24 x ø 148 mm pallets are also possible.  
Completely maintaining accessibility with the PH 150 pallet automation. 
When designing the PH 150 pallet handling system, DMG MORI paid particular attention to ergonomics. The very compact design ensures a very small footprint for the entire automation system. Since the pallets are brought directly into the work area via an opening in the side, the accessibility of both the automation and the DMU 65 monoBLOCK is perfect. The pallet setup station can be conveniently operated via a touch screen. The job manager manages the processing orders.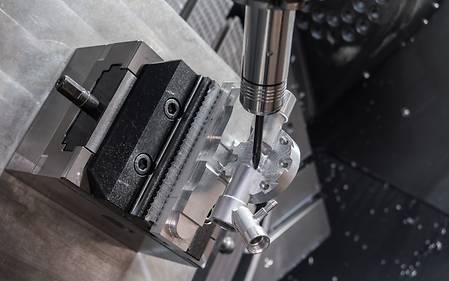 Simulation and MPC technology cycle for process-reliable and unmanned production  
The acquisition of the automated DMU 65 monoBLOCK has also had a massive impact on production capacity for Christ Packing Systems. "The reasons for this are, on the one hand, the shorter processing time, and on the other hand, the unmanned production," Martin Lutze refers to the expanded capacity utilization during the night hours. "If we load the machine at the end of the late shift, we can let it work without worrying and remove the finished workpieces the next morning." He has no fear of collisions: "Thanks to realistic simulations in the CAM system, we don't have to run in each part specifically, and tool monitoring by DMG MORI's MPC technology cycle ensures a stop should there be a problem." 
New development potential through precise 5-axis machining 
Looking back, the DMU 65 monoBLOCK and automation have led to a major change in manufacturing at Christ Packing Systems – in the area of cost-effectiveness, but also at the level of design. Martin Lutze sees two major factors: "First of all, 5-axis machining and the resulting more complex workpieces give us completely new scope in the development of packaging machines. The precision of the machine also plays a major role." Deep fits are a good example, he says: "If one tool is not enough, we can work from both sides and easily achieve the required accuracy."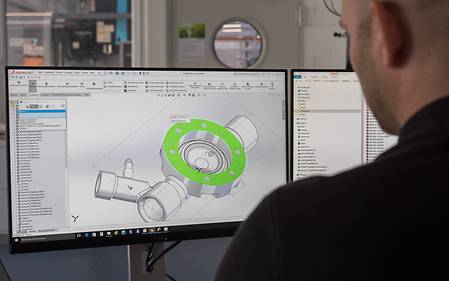 Investing in the future 
Christ Packing Systems has experienced continuous growth for many years, which was also the reason for the new building that houses the automation solution from DMG MORI. "We have structured the entire process from material receipt to assembly in such a way that distances are as short as possible," says Martin Lutze. As part of this process optimization, the DMU 65 monoBLOCK has set new standards within a very short time. A second machine of identical design was installed in 2018. Here, too, the reason was the good order situation: "It's the ideal way to further increase our capacity."