03/11/2022
Burghardt ZERSPANUNGS GMBH & CO. KG
Flexibility in job order production thanks to linear pallet pool and 240-station tool magazines
Since 1974, Burghardt Zerspanung from Meinhard-Jestädt in Hessen has embodied what characterizes a reliable contract manufacturer in metal machining: manufacturing expertise in a wide range of services, absolute quality awareness and adherence to deadlines.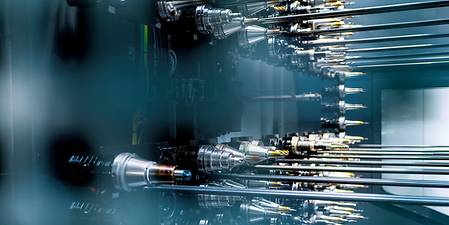 A team of almost 30 supports customers from mechanical engineering, the packaging industry and the public transport sector, from optimization of the manufacturing processes to diverse machining operations and on to grinding, honing and welding. Burghardt has relied on machine tools from DMG MORI since 2004. Today ist shop floor boasts ten CNC machines, including an automated system consisting of two NHX 5000 machines, one NHX 5500 and a 40-station linear pallet pool.
"Our aim is to deliver complex workpieces with demanding quality requirements on schedule", is how Tanja Siebert describes the customer-oriented philosophy of Burghardt Zerspanung. The second-generation managing partner practically grew up in her parent's company, studied mechanical engineering and now continues the success story. The third generation follows with her son Nico Siebert, whose career followed the same path and who now supports her as production manager. He knows that this continuity is valued in particular by many long-standing customers: "This creates a trusting cooperation with efficient decision-making. The same applies to the cooperation with DMG MORI."
Reliable and accurate for 15 years
Burghardt also ensures progression through the modernization of the machines on ist shop floor. "In order to remain competitive, we continuously review and optimize our processes", explains Tanja Siebert. That is why the company has achieved a high level of vertical integration that includes welding and honing. First and foremost it is important to utilize the latest manufacturing technologies: "Even the very first machine from DMG MORI, an NL 2500, convinced us in terms of quality." The model from 2004 is still operating reliably and accurately. "We recently even retrofitted robot automation."
TWO NHX 5000 MACHINES, ONE NHX 5500 AND AN LPP FOR 40 PALLETS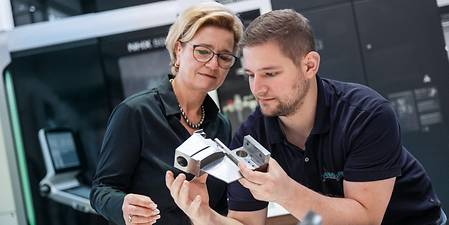 Step 1 – Two NHX 5000 with a 24-pallet LPP
In 2016, Burghardt made a major leap in investment in horizontal milling – again with DMG MORI. The task was to automate two NHX 5000 machines with a linear pallet pool (LPP). Nico Siebert: "At that time, the pallet handling system had 24 pallets and two setup stations that enabled extremely flexible and automated production of smaller batches." The setup times on both machining centers were reduced to a minimum thanks to the tool magazine with 240 stations. "As our work is highly standardized, we have 200 tools permanently in the machine." Machine utilization is correspondingly high.
Step 2 – Expansion of the LPP within a week
The installation of the LPP soon proved to be absolutely the right decision. "The many different types of workpieces that we could suddenly produce automatically and highly efficiently was overwhelming," recalls Nico Siebert. So convincing, in fact, that an extension to the system followed in 2019. In addition to an extra 16 pallet stations, DMG MORI expanded the entire system to include an NHX 5500 and a third setup station. The LPP now has space for 40 pallets. "What impressed us most was the rapid installation: we were completely operational again after just one week – and with increased capacity."
NHX 5500 with powerMASTER spindle for heavy-duty machining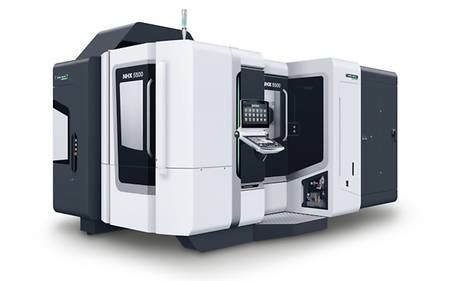 807 Nm powerMASTER SPINDLE WITH 36-MONTH WARRANTY
HIGHLIGHTS
500 × 500 mm pallet size
Workpieces up to ø 800 × 1,100 mm and weighing 1,000 kg
100 rpm direct drive table
Maximum rigidity thanks to massive machine bed and 3-point support
CELOS with MAPPS or SIEMENS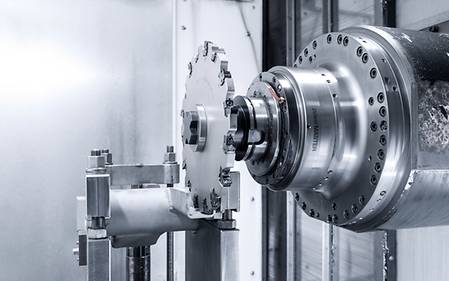 The reason Burghardt decided on an NHX 5500 as the third machine was due to its performance, as Nico Siebert tells us: "With the HSK-A100 powerMASTER spindle (the NHX 5000 has a HSK-A63 speedMASTER spindle), the new model is ideal for heavy duty machining applications. As the pallets are the same, we can now machine workpieces automatically on both machine types." You don't often see side milling cutters with diameters over 250 mm in use in subcontract machining. "More than 800 Nm of torque delivered by the standard spindle in the NHX 5500 brings us even more flexibility." This flexibility is also reflected in the wide variety of workpieces. Burghardt has produced over 3,000 different parts on the NHX machining centers since the LPP was installed.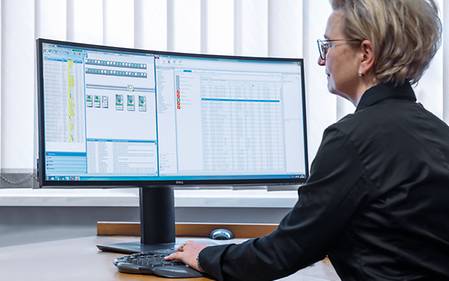 EFFICIENT AND INTUITIVE CELL CONTROL SOFTWARE
HIGHLIGHTS
Material inventory: overview and planning, incl. raw material and finished parts documentation
Tool management: incl. all tools and checklists + Fixtures: overview, planning and documentation
32 clamping faces on towers per pallet for multiple workpieces
Prioritizing of orders on the system or PC
The LPP is operated via the MCC-LPS cell control from DMG MORI. The status of the entire system may be viewed on a screen. The user-friendly interface displays pallet information, machine status and the history of the system and pallet transfers. "We can vary the sequence of orders in the LPP as required on both the system and on the office PC", explains Tanja Siebert. The cell controller can even create up to 32 clamping surfaces per pallet. "So we can, for example process multiple workpieces on towers."
Strengthened for the future
Recurring orders for the public transport sector mean that Burghardt has coped well in the current situation. Tanja Siebert looks ahead optimistically: "After the investments of previous years, we can go forward in a stronger position and intend to further modernize our turning productivity." Automated manufacturing solutions from DMG MORI will be considered again.
BURGHARDT ZERSPANUNGS
FACTS
Founded in Meinhard-Jestädt in 1974
28 skilled workers
Manufacturing service provider for mechanical engineering, the packaging industry and public transport
Burghardt Zerspanungs GmbH & Co. KG
Am Milchberg 18
37276 Meinhard-Jestädt
Germany
www.burghardt-zerspanung.de