04/28/2023
Machine Tool Environment Solutions
Perfectly equipped machine environment
The machine tool is the heart of a metal-cutting production. The same applies to powder bed or powder nozzle machines in additive manufacturing of metallic components. However, a closer look shows that much more is needed to operate innovative manufacturing solutions than the actual machine. Software for programming and simulation as well as clamping devices, tools and cooling lubricants are just as much a part of the production environment as raw material feed, workpiece handling and chip conveyance. In addition, there is equipment in the area of measuring, for example measuring probes and tool presetting, as well as sensor technology for machine monitoring. In additive manufacturing, the right powder and its parameters are important.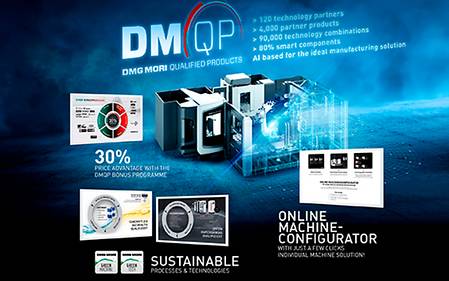 In other words, the acquisition of a machine requires a comprehensive view of the machine environment. This is the only way to optimally design a holistic manufacturing solution. DMG MORI offers this range of services with the help of its DMQP program, in which over 120 technology partners offer more than 5,000 certified products for an optimally equipped machine environment.
From software to the right tool
The machine environment extends into component development. Here, initial CAD designs of the future workpieces are created on the PC. These in turn serve as the basis for the creation of NC programs. CAM software supports users in programming and machining simulation. It takes into account clamping devices as well as tools that will be used for the subsequent machining of the component. Ergo: Even before the first chip falls, suppliers such as Siemens, Esprit, tebis and OPEN MIND, Schunk or SANDVIK and HORN come into play in addition to the machine manufacturer. With user-friendly CAD/CAM software, reliable cutting tools and high-performance tools, they create smooth processes.
Equipment for efficient handling
During machining, the machine environment is constantly in demand: the material flow is often controlled automatically, raw material or pre-loaded components on pallets have to be loaded and removed after machining. Bar loaders, pallet systems or grippers support these secondary activities in increasingly automated operations. Here, too, there are specialized manufacturers, for example LNS, IEMCA, Erowa or Zimmer, who develop solutions for the handling area. While some products can be retrofitted, users usually consider such equipment options when purchasing a machine to maximize potential from the start.
Measuring workpieces and tools
Precision and repeatability play an increasingly important role in modern machining. High-precision machine tools are the optimal basis for this. Meanwhile, constant accuracy is subject to constant monitoring. Measuring probes or measuring lasers in the machine room – for example from Renishaw or Blum – are therefore just as much part of the machine equipment as devices for shrinking, balancing as well as measuring and presetting tools. Here HAIMER is considered an experienced manufacturer with its innovative products. In this case, too, it is important to find optimal products from companies with the right expertise and to include them in the configuration of the production solution right from the start.
Process monitoring for reliable production
Quality-oriented and process-reliable manufacturing also requires consistent monitoring of the machining processes. To this end, numerous sensors and communication interfaces are installed in modern machine tools to collect and evaluate the relevant data. This information can be used to check and optimize manufacturing processes in real time. With their products, specialized companies such as Schäffler or ifm electronic thus enable reliable manufacturing processes that meet high quality requirements.
New requirements in additive manufacturing
In recent years, additive manufacturing has gained importance in many production environments. Because it can produce geometries that are impossible or very difficult to realize in conventional machining, powder bed machines or even hybrid machines with powder nozzles are seen as an increasingly attractive addition to traditional machining. The main difference is in the raw material. Steels, titanium alloys and other metals are fed in here in form of a powder. Höganäs and Thyssen Krupp, to name just two suppliers, specialize in the production of these powders. They also supply the associated parameters that determine the build process and component properties in additive manufacturing.
DMQP partner network for the perfect machine configuration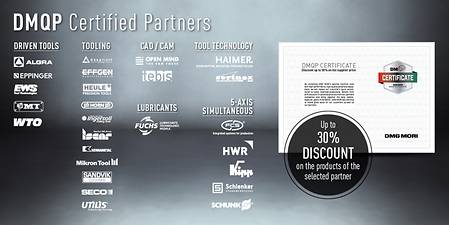 As a leading machine tool manufacturer, DMG MORI knows the requirements for both manufacturing technologies and all related aspects. Long-standing partnerships with suppliers in the aforementioned areas have resulted in a large network from which customers benefit in the configuration of their machine tools. Based on this partner network, DMG MORI launched the DMQP program in 2006, which stands for DMG MORI Qualified Products.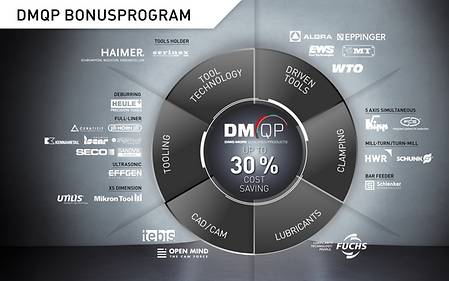 With over 5,000 DMQP products in 120,000 technology variations, DMG MORI offers its customers here – in cooperation with over 120 technology partners – the perfect synergy of machine, components, peripherals and accessories. Preferential offers for tools, tool holders including products for shrinking, balancing and presetting as well as driven tools, clamping devices, cooling lubricants and CAD/CAM software round off the range. High-quality metal powders for additive manufacturing are also part of the range. For this, the machine tool manufacturer has negotiated a bonus with selected suppliers that gives customers a significant purchasing advantage in the form of DMQP certificates. They can be used for the purchase of DMQP products together with a new machine and selected as early as their specification to cover customer-specific needs. Since DMQP partners and their experts advise each customer of a new machine individually, the best possible combination of customer machine and tools, tool holders and other consumables is ensured. This has a decisive advantage for customers: They receive the manufacturing solution including all products for the machine environment from a single source.