5 DIGITAL INNOVATIONS
CONSISTENT AND PROCESS-WIDE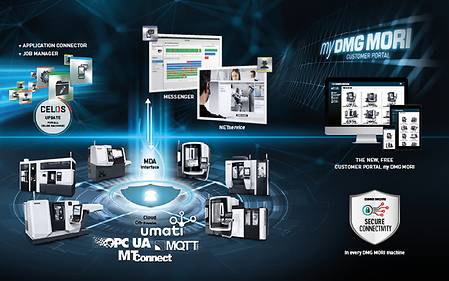 DMG MORI Connectivity: standard from EMO onwards and free in all DMG MORI machines
CELOS Update: open integration of the customer's systems and complete update of all existing versions
MESSENGER: all machines and equipment at a glance
NETservice: direct remote communication with DMG MORI Service
my DMG MORI: the new DMG MORI customer portal for service optimization
DMG MORI CONNECTIVITY
Interview Christian Thönes, Chairman of the Executive Board of DMG MORI AKTIENGESELLSCHAFT
Mechanical engineering is currently dominated by dynamic alliances. In the interview, Christian Thönes, Chairman of the Executive Board of DMG MORI AKTIENGESELLSCHAFT, explains how the structural change is holistically reflected throughout the portfolio of DMG MORI and which future-oriented innovations customers can expect from the global market leader at EMO.
Mr. Thönes, which digital exhibits and solutions can customers expect on the DMG MORI EMO trade fair stand in Hall 2?
We are presenting more than 30 digital innovations at EMO. With DMG MORI Connectivity we are providing secure networking of not only DMG MORI machines but also selected third party machines. in addition, our CELOS customers can also carry out a PLC-independent CELOS Update to the 2019 version. This applies to every existing CELOS version from the last six years. The new DMG MORI MESSENGER for monitoring now also has an interface for third party software and can be used on all machines and devices in production that are networked with DMG MORI Connectivity. We will be demonstrating live on machines how DMG MORI NETservice as a direct remote assistant helps to reduce stoppages. We are exhibiting my DMG MORI for the first time, which is our new DMG MORI customer portal for comprehensive service optimization.
Overall we are presenting ourselves as an end-to-end partner for digitization and automation and showing how the entire manufacturing process can be consistently digitized with the modular Smart Factory products from DMG MORI, from planning and job preparation to production and on to monitoring and service.

What are the special highlights with which you provide orientation?
The focus is clearly on connectivity as far as we are concerned, as it is a basic  equirement for digitization and automation. This is why all DMG MORI machines will be equipped with connectivity free of charge in the standard version from EMO onwards. Every one of our 45 high-tech machines at EMO is also networked.
With DMG MORI Connectivity provide connectivity to DMG MORI and selected third party machines. In doing so, we are supporting all internationally established protocols such as MQTT, MTconnect and OPC-UA, plus the new "umati" language.
DMG MORI Connectivity makes it possible to connect to all significant IoT platforms such as ADAMOS, MindSphere, FANUC Field, and others are also possible. The customer chooses the direction and we set up our solutions accordingly. We will be demonstrating this openness and flexibility at EMO in monitoring applications on various platforms.
The massive opportunities that Connectivity presents also involve risks. Our customers expect appropriate security in their production networks so that they are not exposed to malicious cyber attacks on manufacturing systems. During implementation, DMG MORI Connectivity supports a multistage "Defense-in-Depth" concept. As secure operation of digital products and handling of customer information is extremely important to DMG MORI, we have integrated an "Industrial Control System", so-called ICS Security, in our product development as core constituent of the digitization strategy.
You have just mentioned the new "umati" language. What is so special about "umati"?
The standard is "Key" and "umati" is the new standard in the machine tool industry for open and unrestricted communication within the shop floor and with higher-level IT systems.
DMG MORI has actively promoted, advanced and been instrumental in co-developing the OPC-UA based "umati" standard together with the VDW and selected partners. Now it is a case of establishing "umati" internationally and creating further standards.
How does DMG MORI support its customers with the realization of connectivity and the implementation of digital products?
We have established DMG MORI Digital GmbH together with CPRO to provide service and support for all DMG MORI Connectivity solutions. This joint venture specializes in networking machines. It supports our customers directly on site with advice and qualification and through rapid implementation of digital products from DMG MORI and partners. 
What is changing, particularly in the CELOS area?
With CELOS, DMG MORI has been the only machine tool manufacturer with an appbased control and operating system since 2013. We started with 11 apps in 2013, which were mainly for simplifying machine operation. This innovation had been future-oriented and correct. It was followed by expansion of app functionalities with approximately 50 new features per year.
Now, in 2019, we have increased the functionality significantly with a total of 25 apps and have made open integration of customized systems possible for the first time.
And we are delivering on our promise to bring all 15,000 installations on the market and all versions from the previous six years to a common level with a PLC-independent update to the new CELOS version. The data is safely migrated and all functions supported by the PLC are then fully available.
What exactly is meant by open integration?
The 2019 version of CELOS offers two major innovations. With the new APPLICATION CONNECTOR, our customers can use their own applications such as ERP and MES systems or even their own NC and production data management directly on the CELOS equipped machine. Access to information on the Internet or the Intranet can also be enabled. For example, the machine operator can immediately see shift and holiday plans or information on hazardous substances and important links via the direct connection to the Intranet. In total, up to 20 connections to CELOS can be set up as independent "apps".
And it's quite simple: The customer uses the SETTINGS APP to select whether they would like to access the Internet or an application in the system. After making a selection, they determine the connection destination, select a suitable name and a separate icon. At the push of a button, the new connection is then available as a separate "APP" on the user interface of CELOS.
Even deeper integration is made possible with the new job import functionality of JOB MANAGER. Orders can be directly imported into CELOS in this way. The customer no longer needs to manually transfer jobs from the MES system into CELOS, but can set up automatic transmission that makes data exchange with CELOS possible. A prerequisite for direct import is that the customer MES system makes the orders available in the job-specific .cba format and stores it in the specified directory within CELOS.
Openness is also provided with DMG MORI MESSENGER at EMO with the CELOS update. For the first time, we are not only offering CELOS functionality for DMG MORI machines but for all devices on the shop floor networked using DMG MORI connectivity, i.e. also for third party machines.
A great deal of customer feedback has augmented the redevelopment of DMG MORI MESSENGER. In this way, the MESSENGER now enables simple machine data acquisition and provides an open database for third party software. Reports can be generated automatically and clearly displayed on a page. The dashboard of the MESSENGER can be configured individually. Customers can see all relevant information about the status of the machines at a glance.
We are convinced that the new DMG MORI MESSENGER is the best monitoring product in our industry.
Monitoring is an important factor for increasing productivity in manufacturing. For this reason, as a special EMO offer, users of machines with CELOS will receive the latest CELOS version including the new MESSENGER and DMG MORI Connectivity for their machines as a package. Also included is access to the DMG MORI NETservice limited to 2 years and unlimited access to our new customer portal my DMG MORI.

my DMG MORI?
my DMG MORI is our new customer portal with which users can organize and optimize all service processes regarding their DMG MORI machines.
Our customers previously had to contact the DMG MORI service hotline by telephone for any request, regardless of whether they merely needed one manual or required a service call. With my DMG MORI, every customer can now send service requests directly online, track the status of the request in real time and access all documents in a comprehensive library, around the clock. Our customers can even view requests that have been dealt with via the NETservice.
In combination with NETservice, my DMG MORI provides comprehensive transparency across all service processes and procedures.
… my DMG MORI can only be used for DMG MORI machines, right?
Of course, the advantages of my DMG MORI relate to DMG MORI machines. However, we also have WERKBLiQ, which is a platform that can also be used for third party products. All information from my DMG MORI is imported and displayed, of course.
WERKBLiQ therefore provides an integrated solution for the digital shop floor for managing documentation in a central location, controlling service operations with precision, implementing maintenance in an effective way and learning continuously through evaluation.
When you talk about the openness of DMG MORI with regards to connectivity with IoT platforms, what role does ADAMOS play in the digital strategy of DMG MORI?
The basic idea of ADAMOS is without alternative, mechanical engineering designs solutions for mechanical engineering, its suppliers and its customers. The partner network is expanding continuously, meaning that 16 well-known companies are now actively working together. The implementation of digital applications is supported by the strong network of certified enabling partners.
The exchange of information in the partner network is very positive, as we are united by the firm conviction that we can only deal with the challenges of digitization together. This is how we benefit from Hackathons and co-innovation projects. Successfully dealing with the digital future together is the main focus of our activities. All partners bundle their know-how in order to understand better and faster the needs of the market. It is important to develop integrated solutions for the digital factory to drive new business models and set standards for the industry. More than 40 product ideas have emerged to date, which have flowed into new services and applications, among other things. 
At EMO, ADAMOS is presenting its range of applications for the digital customer experience for the first time via the ADAMOS APP Store. Ease of use represents the core of every offer for end users on the shop floor. Machine operators are looking for universal, simple, manufacturer-independent solutions. ADAMOS provides the required tools, technologies and services for a broad and relevant range of digital solutions. The offer includes the first horizontal applications such as the ADAMOS-OEE app, integration with WERKBLiQ from DMG MORI and 10 other solutions.
ADAMOS provides the relevant technology for rapid development of applications with its IoT platform. To ensure that the devices of the DMG MORI Connectivity solution can be managed, DMG MORI uses "Device Management" from ADAMOS. Best-in-class products from ADAMOS are used. With "Device Management", DMG MORI connects all machines, systems and devices with the IoT platform.
Which strategy are you following during the development of digital products to market readiness?
Initially we use our digital products internally, learn from users, implement the feedback and then release the result onto the market as a tried and tested solution. For example, customers can convince themselves of the digital maturity of our products by visiting our digital factory in FAMOT. 700 employees work simultaneously at 180 work stations with more than 50 machines on up to 11,000 orders in FAMOT. A total of 10 applications are synchronized.
To make this highly efficient manufacturing procedure possible, all processes have been digitized, starting with planning. Whereas we previously needed six employees for manual planning, now two are sufficient. The fully integrated control system makes flexible, detailed planning possible to suit the available capacity. Error-prone planning using Excel can be completely replaced with an automated and integrated system. The basis is an integrated layer that centrally manages all systems.
We also use the WERKBLiQ maintenance platform to control the entire maintenance process of all production machines from a centralized application in FAMOT. We manage more then 60 scheduled maintenance orders per day. The basis for machining on more than 50 installed DMG MORI machines at FAMOT is connectivity.
DMG MORI stands for high-precision machine tools and provides solutions for fully digitized shop floor processes. In this way, we provide a unique basis for actively shaping the future of all facets of manufacturing technology, together with our customers.
It is therefore perfectly clear that we will continue to invest in digitization, develop products with a focus on customer benefits and participate in new start-ups if appropriate.

my DMG MORI - YOUR ONLINE SERVICE MANAGER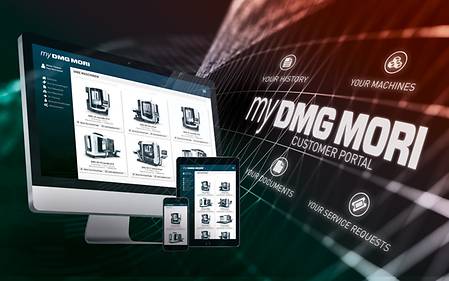 The effects of industrial digitization go well beyond the technological aspects. DMG MORI has demonstrated the added value that can be gained in concrete terms with its new my DMG MORI customer portal.
"The new my DMG MORI customer portal offers fast and direct contact to DMG MORI from any device and includes an overview of the status of all ongoing activities and access to all documents." Dr. Thomas Froitzheim, Managing Director of DMG MORI Global Service GmbH, is well aware of the strategic importance of the market leader's latest digitization initiative.
Access to more service and more knowledge quickly and easily
Efficiency and reliability of service will be supported through my DMG MORI in the future. Customers will then be able to make their service request directly online. "One click on the relevant machine, a short description of the problem with photos or videos if desired, without waiting or misunderstandings on the telephone!" emphasizes Dr. Froitzheim. The request will be sent directly to the "correct" DMG MORI service expert, who will process the request immediately, with the customer able to view the process status live. Moreover, spare part deliveries can be tracked by "Track & Trace". No more queries and waiting on the hotline, enabling customers to plan more efficiently and gain a better overview. Every registered customer benefits from holistic transparency. Above all, Dr. Froitzheim's intention is to fulfil the demands placed by DMG MORI's customers on the modern portal. "As of now, the central internet address myDMGMORI.com will offer our customers a comprehensive overview of installed DMG MORI machines, ongoing service and spare parts issues as well as the digital provision of relevant documents!"
Digital machine file with lifecycle documentation
"In a way, my DMG MORI mirrors the level of knowledge in our systems," explains Dr. Froitzheim. In addition to general documents including instruction manuals for example, the customer library will also include machine-specific lifecycle documentation of every service performed and all spare parts that have been ordered. In the future, the portal will be continuously updated with new options and applications. It will soon be possible to book training courses online and access expert knowhow via an FAQ database.
my DMG MORI on the shop floor
One special highlight that Dr. Froitzheim mentions is the my DMG MORI app. For a service request, the machine will be identified at the push of a button. There is also the option of immediately attaching photos and videos. As a further alternative for the shop floor, my DMG MORI is now standard on CELOS and can now be called up conveniently via the control. Finally, Dr. Froitzheim would like to pass on some special information: "With an upgrade to WERKBLiQ, third-party machines will also benefit in the future so that all advantages can be realized for the entire manufacturing process."

my DMG MORI - The new customer portal for service optimization
WERKBLiQ - PLATFORM FOR SERVICE AND MAINTENANCE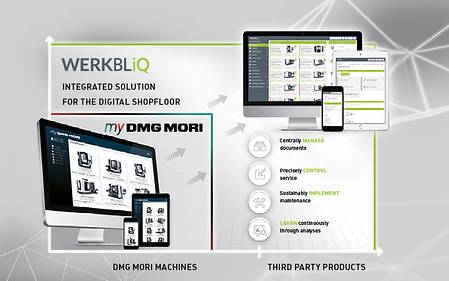 Maintenance processes in production are more important than ever, but they cost valuable time and fray nerves. WERKBLiQ simplifies everyday life virtually, at high speed. So customers can keep an efficient grip on their service – internally and externally.
"WERKBLiQ allows machine operators to visualize all structures and processes of maintenance organization digitally and independently of the manufacturer. This includes internal and external communication channels and the entire contract and documentation management", explains Dr. Tim Busse, Managing Director of WERKBLiQ.
Integrally transparent
As a consequence, WERKBLiQ optimizes the entire service process for all machines and equipment with quantifiable benefits. Even machines without a network connection can be integrated and managed in WERKBLiQ via mobile devices. Incorporation into existing IT systems can be effected quickly and without any great effort on the shop floor. On average, implementation takes just 48 hours.
In their day to day work, employees record and document all activities and processes. They are supported by customizable and interactive windows. All it takes is the press of a button to alert internal maintenance directly from the machine in the event of a breakdown and to initiate the stored service procedure.
Start free of charge with my DMG MORI – upgrade to WERKBLiQ
my DMG MORI users can easily upgrade their account to WERKBLiQ. All DMG MORI machines are then automatically transferred to WERKBLiQ, where they are integrated and managed holistically with third-party machines and other equipment.
The networking of WERKBLiQ and DMG MORI SERVICE ensures a particularly high level of customer benefit, as all functions available in the my DMG MORI account are also part of WERKBLiQ.
High degree of customization thanks to digital modularity
In parallel with this, users benefit from all the advantages of the WERKBLiQ platform. They profit from integral functions for managing and optimally controlling the entire maintenance process. This guarantees full control at all times.
Manufacturing companies no longer have to adapt to inflexible software. Individual challenges demand individual solutions. That is why customer-specific configurations were integrated during the development of WERKBLiQ, which can be used by every user to develop their own solution.
"With WERKBLiQ, tasks that today are performed exclusively using paper or Excel can be solved much more efficiently digitally," says Dr. Busse. Employees at Romaco Kilian in Cologne, for example, save themselves 1.5 working hours a day thanks to no longer having to go back and forth to the workshop so often.
Generation of digital added value for customers
Continuous documentation and recording of data on the shop floor enable end-to-end transparency in subsequent processes. The WERKBLiQ evaluation module means this is no longer just a vision. The module enables maintenance and production managers to evaluate relevant key indicators and use the results continuously to implement improvements.