03/28/2019
Berufsbildungszentrum Dr. Jürgen Ulderup
Future-oriented training of the next generation of skilled young workers
The Berufsbildungszentrum Dr. Jürgen Ulderup (Vocational Training Center) has modernized its technology center in close collaboration with the DMG MORI Academy.

The persistent lack of skilled workers in technical professions is a topic that occupies DMG MORI both in its daily interaction with its clients as well as at first hand within its own group of companies. This is set against advancing technological change in the direction of Industry 4.0. With its DMG MORI Academy the machine tool manufacturer has found a way of promoting young people and awaking their enthusiasm for digitization in the machine tool industry. It achieves this by means of its own training program and through targeted co-operations with training institutions such as the Berufsbildungszentrum Dr. Jürgen Ulderup in the city of Diepholz in Lower Saxony. A DMG MORI Technology Transfer Center has just been established there, in which trainees, students of the vocational high school and the technical college and future technicians are acquainted with the use of the latest CNC technologies. The recently installed CTX beta 800 TC equipped with CELOS and workpiece handling system provides an insight into the future of production.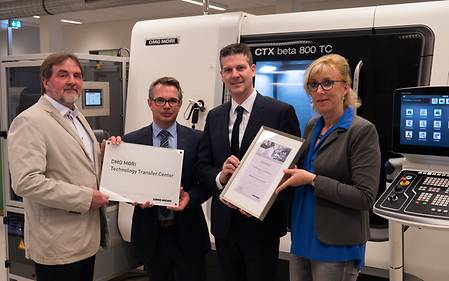 The Principal Birgitt Kathmann believes, "A modern school infrastructure helps us prepare trainees and students ideally for the fast-paced working world that awaits them." That is why the Head of the Berufsbildungszentrums Dr. Jürgen Ulderup is thrilled by the recently opened Peter Ulderup Technical Center. This milestone in the modernization strategy of the vocational training center was also made possible thanks to donations made by the Dr. Jürgen and Irmgard Ulderup Foundation and ZF Friedrichshafen AG.

Innovative CNC technology as preparation for the future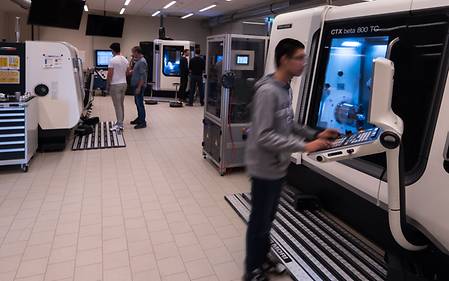 With the aid of this funding the Berufsbildungszentrum Dr. Jürgen Ulderup was able to equip the Technology Center optimally – from the smartboard on through to the smart factory, which also includes a CTX beta 800 TC from DMG MORI. "The turn-mill center with connected automation represents a production environment that the next generation of skilled young workers will be increasingly confronted with in their daily working lives", explains Director of Studies Friedel Duwenhorst, Head of the Technology Department. "That is why it was so important for us to teach on exactly this technology standard." The Academy of the Dr. Jürgen and Irmgard Ulderup Foundation – responsible for vocational training – has another two DMG MORI models on its premises, a DMU 50 5-axis milling machine and a CTX alpha 300 universal turning machine. "The shared use of the CNC machines brings substantial added value for all concerned."
The CTX beta 800 TC represents the current state-of-the-art in the production environment of the Technology Center. With its intuitive control and operating system CELOS the turn-mill center can be integrated easily into digital processes – from work preparation to order management and on through to documentation. The combination of turning and milling in a single setup enables cost-efficient complete machining of workpieces. "With more and more firms using innovative manufacturing solutions, the trainees, too, have to get used to working with these – we could not offer these young people adequate training with old machines", explains Friedel Duwenhorst. Training institutions must keep pace with technological developments just as much as industry as a whole. "After all, with our practical training programs and the corresponding equipment we are promoting technical professions."

Win-win situation for all concerne
"As a machine tool manufacturer it is also our wish to introduce the young people at an early stage to what they will increasingly be confronted with", says Maik Karmann. He is responsible at the DMG MORI Academy for all aspects of the CTX beta 800 TC project. The DMG MORI Academy is able support the training of the next generation of skilled workers not only with machine equipment, but also with an integral process expertise. Work in the metal cutting branch has changed fundamentally in the last twenty years adds Sven Stolle, who as a DMG MORI Area Sales Manager is also involved in the project. "More complex production technologies, digital processes and the continuously growing demands on quality and productivity today call for highly qualified skilled workers." We must and can awake the enthusiasm of young people in this respect: "The youngsters of today already grow up in a digital environment. So it is only natural that we acquaint them with such topics of the future early on in their professional lives."
Maik Karmann sees a win-win situation for all concerned: "The Vocational Training Center awakes the interest of future students and trainees, while the students themselves enjoy a good training and ideally have fun with modern technology." DMG MORI benefits as well: "Lots of students and trainees work with our machine tools in the various stages of their professional training. We also benefit if they gain a positive impression and become acquainted with our products at the outset of their careers."
The certification as a DMG MORI Technology Transfer Center clearly indicates that the cooperation between the Berufsbildungszentrum Dr. Jürgen Ulderup and the DMG MORI Academy is a long-term undertaking. A network that encourages intensive exchange will gradually be established together with other training institutes in northern Germany that have this certification or that join subsequently. Friedel Duwenhorst finds the idea extremely promising: "Such a network will help training institutions to keep up with technological developments and to further optimize their training programs."