11/22/2021
The future of additive manufacturing processes
Additive manufacturing enables completely new degrees of freedom with regard to the design of component geometries and is becoming an increasingly relevant complement to machining technologies. As a result, the new processes of "metallic 3D printing" can be found in more and more manufacturing companies and are increasingly working their way out of the niche – into an ever broader application environment.
Additive Manufacturing
Subtractive manufacturing uses machining to remove material from raw material to carve out a component in the desired geometry. These include manufacturing processes such as milling, turning and grinding. A component that is manufactured additively, on the other hand, is created by building up layer by layer the contours of a digital 3D data model of the workpiece The principle of building up layer by layer described here still forms the basis of all additive manufacturing processes today.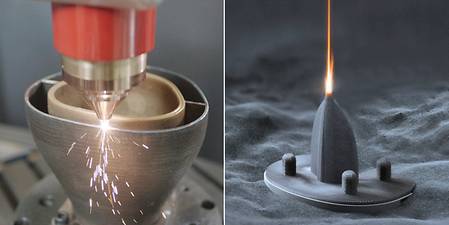 Laser deposition welding, which is now assigned to the field of Directed Energy Deposition (DED), gained early prominence. The powder is introduced into a laser beam via a coaxial powder nozzle, which fuses it with pinpoint accuracy. The process is characterized by a very high build-up rate. The component is built up layer by layer, using the full 5-axis kinematics of the CNC milling machine. Support geometries, as in the powder bed, are not necessary here, since the 5-axis kinematics always bring the component into the correct position relative to the laser nozzle. An integrated twin powder conveyor allows two different materials to be supplied simultaneously. In this way, different metals can be applied alternately to give the component the desired properties – for example, higher thermal conductivity or different degrees of hardness in certain areas. Graded materials can also be produced, in which a smooth transition from material A to material B is realized.
Another prominent process is selective laser melting (SLM) of metal powder. The powder is applied in thin layers to a building platform and then fused locally with a laser according to the component geometry. The area of the layers to be exposed was calculated in advance from the 3D model of the workpiece. After completion of the production process, the excess powder can be extracted and reused. Due to the wide range of applications, countless material powders are already available in this process area. This means that functional workpieces (prototypes) can be produced in series materials and tested for their suitability. Various steels and aluminum grades, cobalt chrome and nickel alloys through to copper and titanium are available for generative component construction.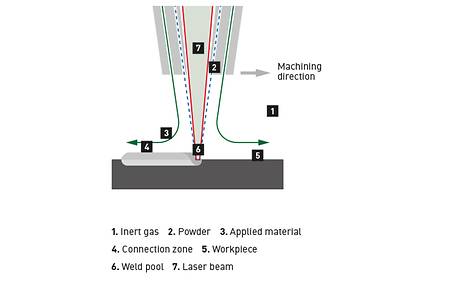 The two processes, Directed Energy Depostion (DED) and Selective Laser Melting (SLM), differ essentially in the tolerances that can be generated, the build-up rates and the production speeds. For example, the precision of laser deposition welding is lower than that of the powder bed process. However, in terms of its ability to be integrated into hybrid machine tools, it can claim advantages in terms of productivity. This is because the additive component structure can be expanded in a single setup with conventional machining. In principle, therefore, both processes have their justification – and in different industries.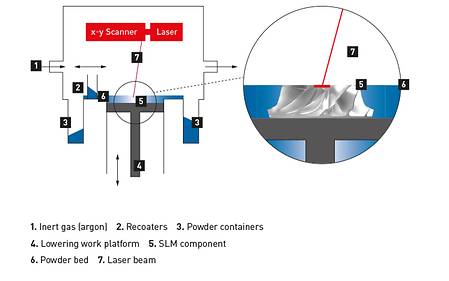 DED machines have long been firmly established in mold making and aerospace applications. In repair, damaged components can be rebuilt and repair options realized that are as fast as they are economical. In medical technology, patient-specific solutions for dental prostheses or joint prosthetics are created in the powder bed of SLM machines.
Secrets of success of additive manufacturing
Compared to conventional processes, additive manufacturing allows a completely new approach to design and manufacturing. Potentials lie in the environment of spare parts availability, internal geometries, complex component structures or low quantities. Another opportunity is offered by application scenarios that lead to significantly improved product properties.
For example, topology optimization can greatly improve the properties of a component. Additively manufacturable (bionic) structures, for instance, can be used to reduce weight while simultaneously achieving very high stability. Additive manufacturing processes thus offer advantages, particularly in the case of high or very specific requirements for component properties. An end-to-end process chain that combines metallic 3D printing with targeted post-processing is also often more economical than conventional processes under the right conditions.
Additive manufacturing means additive thinking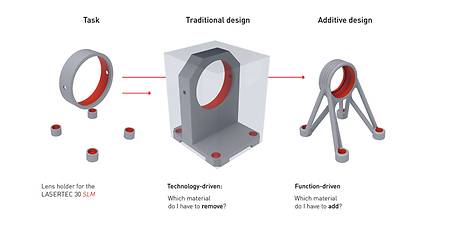 In order to fully exploit the potential of additive manufacturing of components, a change in thinking must already take place in product development. The challenge here is the practical application and identification of potential in the specific spectrum. This in turn requires fundamental knowledge of the respective possibilities and an unbiased approach. In the best case, customers rely on competent analyses that provide information about the added value that additive manufacturing can offer in the company and how components can be optimized by the technology either in their properties and functions and/or can be manufactured more economically.
Due to the limiting factors of additive manufacturing outlined above, 3D printing is a lucrative addition to, but not a replacement for, traditional machining technologies. With a view to the further development of additive manufacturing in a wide range of industries and also its integration into new business models, the future potential in particular is promising.
Consistency in additive manufacturing with DMG MORI
DMG MORI has been supporting its customers with integrated processes in additive manufacturing since 2013 – initially on the basis of laser buildup welding with the LASERTEC DED and LASERTEC DED hybrid series, and for several years now also in the powder bed process with the LASERTEC SLM series. As the world market leader in machine tool manufacturing, DMG MORI combines additive processes with a broad portfolio of high-performance machining solutions. CELOS as an all-encompassing interface offers the possibility for technology-independent and consistent operation (user experience) here.
Even before additive process chains are implemented, DMG MORI supports interested parties and users in its own Additive Manufacturing Excellence Centers with its comprehensive expertise in both metallic 3D printing and conventional machining. The aim is to provide optimal manufacturing solutions that pave the way to more economical production and higher-quality products.
Based on its extensive portfolio in ADDITIVE MANUFACTURING and CNC technology, DMG MORI can offer four additive process chains. For example, workpieces can first be built up in a powder bed on the LASERTEC SLM machines and then be post-processed by machining. In this way, additively manufactured components can be produced with extremely high precision. Users can also place the machining process upstream. For example, the basic bodies of milling heads can be manufactured productively. Finally, the complex structure of the mold, including internal cooling channels, takes place in the powder bed.
In the powder nozzle area, too, a combination of additive manufacturing and machining is the focus of two process chains. The LASERTEC 65 DED for pure laser buildup welding manufactures demanding components or multi-material applications up to ø 650 x 560 mm completely without support contours. In the subsequent finish machining on a universal machining center from DMG MORI, flat surfaces, fits or threads are finished with the required accuracy. With the LASERTEC DED hybrid models, DMG MORI combines this process chain in one workspace. Depending on requirements, users can switch back and forth between additive manufacturing using a powder nozzle and 5-axis simultaneous machining or 6-sided complete machining. This allows the production of even more complex workpieces. Depending on the application, DED / DED hybrid machines are available for components up to ø 1,010 × 3,702 mm.