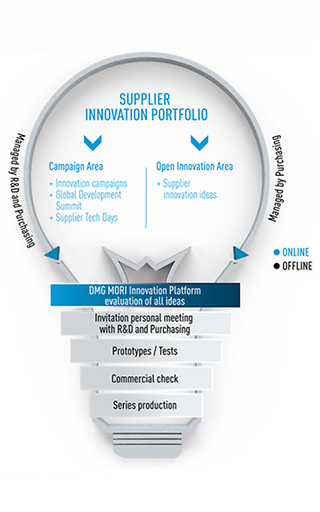 At DMG MORI's "TechDays", we were able to get numerous innovation projects off the ground together with our technology partners, in order to further coordinate and implement in the short term global strategies and technological approaches.

We practise innovation management using the Open Innovation approach:
In the "Campaign Area", we start innovations with our partners, for example, campaigns or TechDays as part of the Global Development Summit, thus allowing us to absorb innovative ideas into the company. The development departments of the production plants then assess these innovative ideas. The entire process is coordinated by purchasing.
In the "Open Innovation Area", we must set the expectations of all of our suppliers, proactively new ideas or innovative services on the DMG MORI platform. The aim here is highlight innovations at an early stage and try to safeguard competitiveness. Purchasing is responsible for this process.